Glass Wool Insulation
Glass wool Insulation is one of the most widely used forms of insulations world-wide, because of its thermal and acoustic properties. It is light weight, has high tensile strength and exceptional resilience. Glass wool is one of the most preferred insulations in applications with service temperatures up to 250ºC. A mixture of sand and recycled glass at 1,450 °C and spun at high speeds to create very thing fibre and bonded together by high temperature binder. These fibres are distributed to trap millions of tiny pockets of air in it, thereby creating it an excellent thermal and acoustic insulation. The resulting product is formed into rolls and slabs with various thickness and densities. Some products come with Aluminium Foil, Black Glass Tissue, Glass Cloth facings.
Loft insulation

Cavity wall insulation

Within partitions and floors
Suitable for temperatures up to 230°C,

Typically includes 30 – 60% of post consumer waste,

A formaldehyde-free binder,

High thermal resistance,

Chemically inert,

Non-combustible,

Extremely low spread of flame,

Non emission of dense smoke and toxic gases, on depletion of oxygen,

Excellent acoustic insulation values,

Odourless,

Does not encourage growth of fungi and vermin,

Inherently non-combustible and resistant to rot,

Glass wool is stable under varying conditions of temperature and humidity.

Excellent tear strength.

Not prone to sagging or settling.

Rigid slabs have inherently high compression resistance.

Reusable and recyclable,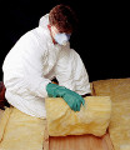 Precautions
Glass wool would irritate the eyes, skin, and the respiratory system. You might feel itching skin, eyes, breathing difficulty, sore throat, hoarseness and cough, so you must wear safety clothing and safety goggles.

---
CHOOSE MANUFACTURERS or scroll down to see products
Showing 1 to 24 of 24 (1 Pages)