Novia FF1 Foil Faced Building Paper 1m x 25m Roll
Product Code:

A1-2443

Brand:

Novia


(Contact number: 01622 678952)

Model and Size:

1m x 25m

Delivery Time:

1 - 2 days
---
Guide Price:

InStock

NewCondition

GBP

58.44

£48.70

(£58.44 inc VAT)

Price: £48.70

(£58.44 inc VAT)

---

30 or more £48.28

(£57.94 inc VAT)

60 or more £47.86

(£57.43 inc VAT)
Other lengths
Novia FF1 Foil Faced Building Paper 1m x 25m Roll
Novia FF1 Foil Faced Building Paper is a BS 1521 compliant grade of low emissivity, foil-faced, scrim-reinforced, bitumen laminated traditional building paper use as an air leakage and vapour control barrier applications for insulated walls, roofs and floors. It has a very high diffusion moisture barrier capability. Novia FF1 is used in applications where rubber and plastic are unsuitable. It must be professionally installed in conjunction with Novia 2-tape sealing system to ensure a fully airtight seal.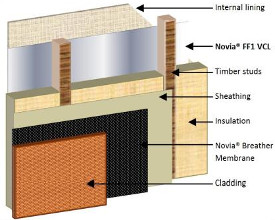 Traditional material for non-plastic and non-rubber VCL applications,

Bitumen laminated traditional building paper,



High reflectivity and low emissivity surface that delivers improved R and U-values when installed facing a minimum cavity of 25mm,


Reinforced multilayer polythene laminate,

Minimises interstitial condensation,

Improves the insulation performance,

CE approved to BS EN 13984,

Meets the requirements of BS 5250: 2011

Flame resistant to EN 13501-1 Class E,

Suitable for use in commercial cladding systems.

For wall, roof and floor applications as an air leakage barrier and vapour control layer.
VCLs should always be installed on the inside within all wall, roof or floor insulated frame applications, and would normally be used in conjunction with Novia external breather membranes which are situated on the cold side (on the outside).


Fix the membrane to the structure using suitable galvanised or stainless permanent fixings,

All VCL membrane joints should have a minimum 150mm overlap and be situated on a stud, rafter or timber,

To improve overall airtightness, butyl tape is pre-applied to all the areas where a fixing is to be made.

Ensure that the membrane is not damaged during installation, and that all service entry points are properly sealed.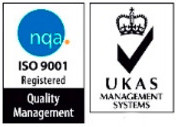 This product is listed in the following categories and systems (click to show).
This product is listed in the following categories and systems (click to hide).
Related Products