37.5mm Xtratherm Safe-R Thermal Liner SR/TB (25mm Phenolic Core and 12.5mm Plasterboard) - Dot and Dab (pack of 12)
37.5mm Xtratherm Safe-R Thermal Liner SR/TB | 25mm Phenolic Core + 12.5mm Plasterboard | Dot & Dab (pack of 12)
Thermal Conductivity: 0.020W/mK
Compressive Strength: 125kPa
37.5mm Xtratherm Safe-R Thermal Liner SR/TB is a composite insulated panel of Xtratherm 25mm Phenolic core with a composite tissue facing bonded to a 12.5mm tapered edge plasterboard for internal applications,fixed with dot & dab adhesive bonding. Xtratherm Safe-R Thermal Liner SR/TB is designed to provide high levels of thermal insulation and dry lining in one operation for masonry walls. The Safe-R Thermal Liner SR/TB board achieves a resistance greater than 100 MN.s/g. Improved vapour resistivity when required, can be provided with two coats of Drywall Sealer. Safe-R Thermal Liner SR/TB is faced with low emissivity aluminium/glass tissue facings, and has a thermal conductivity as low as 0.020W/mK. Max installation height for this system is 3m.
Note: The plasterboard can be square edge, 9.5mm thick, fire or moisture resistant or soundproof, can be priced on request.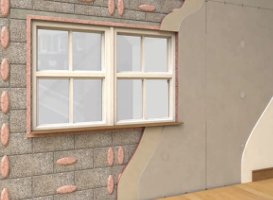 Superior performance phenolic foam,

Thermal conductivity as low as 0.020 W/mK,

Effective thermal and fire performance,
Achieves a resistance greater than 100 MN.s/g,


Can be readily cut using a sharp knife or fine toothed saw,

Low smoke obscuration,

Low risk fire rating - Class 0,

HCFC/CFC Free,

Zero ODP,

Rot proof and will remain effective for the life span of the building,
Internal wall drylining f

or new build or refurbishment
Align the SR/TB Thermal Liner squarely on wall.
Allow a 15mm expansion joint at the top and bottom of the panel, and fill with foam filler.
Mark the position of the panel on the wall. Apply adhesive dabs to the wall in accordance with BS8212:1986 & BS 800: Part 8: 1994.
Vertical dabs @ 300mm centres 25mm in from edge. Dabs 50-75mm wide approx 25mm deep to allow for tamping. Total contact with boards area should be 20%.
Lift the SR/TB Thermal Liner into position using wedges on the floor.
Apply pressure to the board to level and embed in the adhesive.
Insulation should be cut back to accommodate an adjoining panel at external corners.
When the adhesive has dried, 3 fireproof mechanical fixings should be fixed through the centre of the board.

Xtratherm Safe-R SR/TB is manufactured to EN ISO 13166 under Quality Systems approved to EN ISO 9001:2008 Quality Management, EN ISO 14001:2004 Environmental Management and
BS OHSAS 18001 Health and Safety Management System.