Phenolic Insulation Boards
Phenolic insulation boards are the most effective type of rigid insulation boards currently available. Phenolic insulation board is manufactured by a process in which a plastic foam forms an insulating core between two flexible facing layers. It has a high closed cell content and fine cell structure. Rigid phenolic insulation is produced by mixing high solids and phenolic resin with a surface acting agent. The heat created by the reaction evaporates a volatile liquid blowing agent in the mixture produces a mass of small bubbles in the material. The foam is then cured and manufactured in a continuous process to create thin sheet material which is laminated with various facings and cut into boards. Phenolic boards are laminated with pure aluminium foil facings, glass tissue facings, plasterboard.
In order to comply with EC regulations, blowing gases should be CFC and HCFC free--zero ozone depletion potential--and have low global warming impact. The most common blowing agent used in this type of insulation production is pentane, which is a hydrocarbon with similar properties to those of butane and hexane. The rigid boards are faced with, gas tight, aluminium foil or glass tissue in order to help eliminate escaping of the blowing agent in the manufacturing process.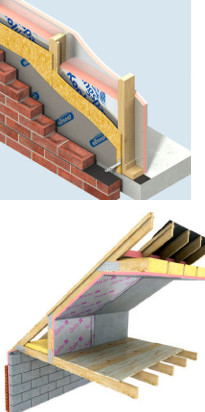 Application
External wall insulation with render

Partial fill cavity wall insulation

Pitched roofs

Rainscreen

Soffit insulation

Solid and suspended floors
Rigid phenolic insulation products offer very good thermal insulating properties due to the very low thermal conductivity of phenolic foam. Its low thermal conductivity allows specified thermal performance targets to be achieved with minimal thickness of insulation. This is particularly significant where space saving is important.

The reflective foil can also act as a radiant barrier that adds to insulating values. The low emissivity facings improve the thermal performance when positioned next to an unventilated space. This makes the phenolic boards particularly effective when used to partially fill cavities in external walls.

Characteristics
Has a high closed cell content (>95%) and fine cell structure,

Lightweight, easy to transport, handle and install,

High density boards have a good compressive strength and are suitable for floors,

Resistant to fungus and mould growth and will not sustain vermin,

Can withstand continuous temperatures of up to 120 degrees C,

Highly resistant to moisture penetration.

Moisture has a minimal effect on its thermal performance,

Is dimensionally stable and can be cut accurately to achieve a snug fit in situations such as between rafters,

Has better fire properties,

Has very low thermal

conductivity, so can be used

where a self extinguishing, low smoke emission, material is required,

Meets the requirements of building regulations,

Non- biodegradable but waste material can be put back into the manufacturing process for reuse.



Phenolic board is a very versatile material suitable for a large range of applications where thermal performance, moisture resistance, fire performance and in certain cases structural strength is key performance criteria. Phenolic foam is the only material that can provide this unique range of benefits.
R-value Comparison Chart for Phenolic Insulation products available at Insulation Shop

1*
Kingspan Kooltherm K103 Floorboard
,
Kingspan Kooltherm K106 Cavity Board
,
Kingspan Kooltherm K107 Pitched Roof Board
,
Kingspan Kooltherm K108 Cavity Board
,
Kingspan Kooltherm K110 Soffit Board
,
Kingspan Kooltherm K118 Insulated Plasterboard
2* Kingspan Kooltherm K17 Plasterboard, Kingspan Kooltherm K18 Plasterboard
3* Kingspan Kooltherm K3 Floorboard, Kingspan Kooltherm K15 Rainscreen Board, Gyproc Thermaline Super Insulated Plasterboard, Kingspan Kooltherm K12 Framing Board, Kingspan Kooltherm K15 Rainscreen Board, Xtratherm Safe-R Thermal Liner SR/TB-MF Mex-Fix, Xtratherm Safe-R Thermal Liner SR/TB Dot & Dab
4* Kingspan Kooltherm K7 Pitched Roof Board, Kooltherm K10 FM Soffit Insulation Board, Xtratherm Safe-R insulation Board
5* Kingspan Kooltherm K5 External Wall Board, Kooltherm K8 Partial Fill Cavity Board
---
CHOOSE MANUFACTURERS or scroll down to see products
Showing 1 to 22 of 22 (1 Pages)