PIR (polyisocyanurate) Boards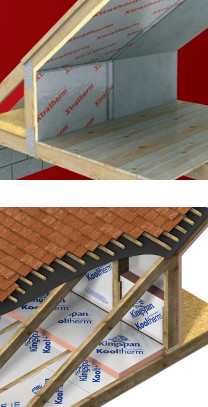 There are also other types of PIR insuation boards, for example, for flat roofs it can have plywood bonded on one side, or glass tissue or plasterboard bonded to it for wall applications. The need to replace the insulation is highly unlikely due to its rigidity, durability and excellent compressive strength. PIR insulation boards require approximately half the thickness of traditional forms of insulation to meet the same level of thermal performance. They achieve low R-values, as low as just 0.021W/mK. It is seen as greatest potential for energy saving today. PIR insulation boards will not rot, sag or decay and will therefore continue to deliver designed insulation values throughout the lifetime of the building.
The insulation core and facings resist attack by mould and microbial growth. They have a fibre free insulation core, and therefore are non-irritant. It is an environment friendly material. Its low weight also lends itself to modern methods of construction and lighter supporting structures. They are easy to handle and transport, making installation much easier and quicker than traditional insulants.
Foil faced PIR boards

Cavity PIR boards (partial fill and full fill)

Mineral coated glass faced or bonded to plywood PIR boards (flat roof)

Floor, walls and roof insulation
Flat and pitched roofs,

Floors,

Walls,

Cavity insulation.
PIR insulation board with core sandwiched between two aluminium foil facings
These insulation boards are available in different thicknesses, 12mm-150mm, all especially designed to eliminate thermal bridges, very easy to cut and shape and energy-efficient. They are used for insulated sheathing on timber frame, insulated sheathing on steel frame, insulation between studs on timber frame wall, external masonry with timber frame or ventilated cladding with timber frame, for pitched and flat roofs and floors. They are unaffected by air infiltration, resistant to the passage of water vapour, easy to handle and install and ideal for new build or refurbishment.
PIR insulation bonded to plasterboard
These insulation boards can be installed relatively quickly, in direct bonding and mechanically fixed installation techniques, can be used for both new construction projects as well as refurbishment projects or upgrading to applicable regulation standards. It is used in solid masonry walls or timber frame lining applications and also as the bottom layer of insulation in between and under rafter and joist applications. Available in 25mm-60mm thicknesses,
PIR insulation bonded to plywood
This type of insulation is used for insulation of timber deck flat roofs, it has high performance rigid thermoset insulation, vapor control layer and decking in one board, with proven reputation as a quality composite roof deck material.
PIR insulation bonded with OSB board
These insulation boards are used as decking and as thermal insulation for new and refurbishment flat roof applications. It is suitable for use in damp environment as it does not readily absorb water. The low thermal conductivity of the insulation minimizes the board thickness. The composite board offers rapid coverage and straightforward installation.
PIR insulation coated with mineral glass
These insulation boards have mineral coated glass facers and are suitable for use below single ply fully adhered roof membranes, single ply waterproofing systems and partially bonded built-up felt. They are suitable for use on roof decks that are subject to maintenance traffic. The product is stable, rot proof and will remain effective for the life span of the building, depending on specification and installation.
R-value Comparison Chart for PIR Insulation products available at Insulation Shop


Legenda
1* Celotex FI5000 Insulation Board, Celotex FR5000 Fire Resistant Insulation Board, Xtratherm Thin-R Full Fill Cavity Wall Insulation, Xtratherm XtroLiner Insulation Board, Celotex CF5000 Cavity Full fill Insulation Board
2* Celotex TB4000 Insulation Board, Celotex GA4000 Insulation Board, Celotex XR4000 Insulation Board, Celotex CW4000 Insulation Board, Celotex Crown-Bond Flat Roof Insulation Board, Celotex Crown-Fix Flat Roof Insulation Board, Celotex Crown-Up Flat Roof Insulation Board, Kingspan Thermawall TW55 Wall Insulation Board, Kingspan Thermapitch TP10 Pitched Roof Insulation Board, Kingspan Thermaroof TR26 Insulation Board, Xtratherm Thin-R Insulation Board, Xtratherm Thin-R XT/CW Partial Fill Cavity Wall Insulation, Xtratherm Thin-R Hyfloor Insulation Board, Recticel Eurothane GP Insulation Board, EcoTherm EcoVersal Insulation Board, Celotex PL4000 Insulated Plasterboard, Kingspan Thermaroof TR31 bonded to Plywood, Xtratherm Plydeck bonded to OSB, Xtratherm Thin-R Thermal Liner - Mech Fix, Dot & Dab, Gyproc Thermaline Insulated Plasterboard, Gyproc Thermaline MR Insulated Plasterboard, Recticel Plylok Flat Roof Insulation bonded to Plywood, EcoTherm EcoLiner Insulated Plasterboard, EcoTherm Eco-Deck - Insulated Flat Roof Decking
3* Kingspan Thermafloor TF70 Insulation Board
4* Kingspan Thermaroof TR24 Insulation Board, Kingspan Thermaroof TR27 Insulation Board, Xtratherm Flat Roof Board FR-MG, Xtratherm Flat Roof Board FR-BGM
Here at Insulation Shop you can find a various types and sizes of PIR insulation boards, produced by leading manufacturers, such as Celotex, Kingspan, British Gypsum, Xtratherm, EcoTherm, Recticel, Knauf.
CHOOSE MANUFACTURERS or scroll down to see products