15mm Xtratherm PIR Rigid Insulation Board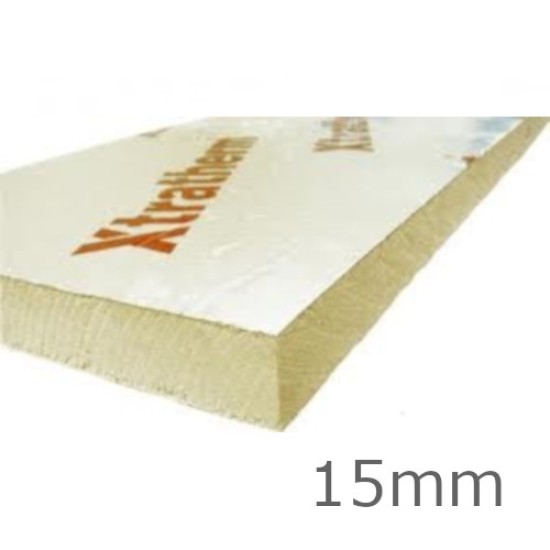 15mm Xtratherm PIR Rigid Insulation Board
Guide Price: £20.09
(£24.11 inc VAT)
Price per m2: £6.98/m2 (£8.37 inc VAT)
10 or more £19.91 (£23.89 inc VAT)
20 or more £19.75 (£23.70 inc VAT)
30 or more £19.58 (£23.50 inc VAT)
Product Code:

A1-89

Delivery Time:

1-3 working days

Brand: Xtratherm
(tech. support: 03712221055)
Model and Size:

2400mm x 1200mm - 2.88m2

Weight:

1.30kg

Currently: 95 in stock
Our ratings on 31-05-2023:

4.4 out of 5 - Excellent


4.7 out of 5
15mm Xtratherm PIR Rigid Insulation Board
Thermal Conductivity: 0.022W/mK
Compressive Strength: 140kPa
15mm Xtratherm Thin-r is a foil faced Polyisocyanurate (PIR) insulation board formed by a blowing process which generates rigid foam composed of fine cells filled with Pentane blowing agent trapped within the foam. Pentane has very good insulating properties and gives Thin-r superb insulating capability. Long term performance is ensured by the foil facings which are gas tight.
The thermal conductivity of Xtratherm Thin-r is among the lowest for commonly available insulation boards.

Xtratherm Thin-r boards are manufactured to strict dimensional tolerances, enabling the boards to be fitted tightly together. That reduces air leakage through the construction and associated heat losses through convection

Xtratherm Thin-r contains gas tight aluminium facings that form a low emissivity surface which, when facing a cavity reduces the heat loss through radiation, cutting the overall rate of heat loss.

Xtratherm Thin-r excellent lambda value and therefore low thickness allows constructions to be thinner than they would be with other insulation material

With the excellent thickness to performance ratio (R-value) of Xtratherm Thin-R less material is required to achieve the best performance levels asked for in the new building regulations.
Xtratherm Thin-r insulation board is suitable for use in:
Virtually all building elements can be insulated with PIR:
concrete slab

beam and block timber floors

masonry or timber framed walls

flat and pitched roofs
Xtratherm Thin-r is manufactured under ISO9001 assured quality system.

Xtratherm Thin-R is manufactured using Pentane as the blowing agent. Pentane is CFC/HCFC free with zero ozone depletion potential and a Global Warming Potential less than 0.01.