Polystyrene Boards
Extruded polystyrene is made by mixing polystyrene pellets with various ingredients to liquefy them. A blowing agent is then injected into the mixture to form gas bubbles. The foaming liquid is forced through the shaping die and, when cooled, it produces a closed cell foam that is rigid and water resistant.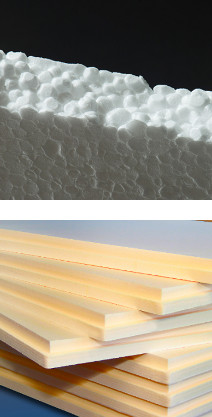 Expanded polystyrene is made from expandable polystyrene, which is a rigid cellular plastic containing an expansion agent. The raw material is heated in special machines called pre-expanders with steam at temperatures of between 80-100C. The density of the material falls from some 630kg/m3 to values of between 10 and 35kg/m3. During this process of pre-expansion the raw materials compact beads turn into cellular plastic beads with small closed cells that hold air in their interior.

On cooling, the recently expanded particles form a vacuum in their interior and this is compensated for by air diffusion during its intermediate maturing in aerated silos. The beads are dried at the same time. This is how the beads achieve greater mechanical elasticity and improve expansion capacity. Then the stabilised pre-expanded beads are transported to moulds where they are again subjected to steam so that the beads bind together. In this way moulded shapes or large blocks are obtained. They are later sectioned to the required shape like boards, panels, cylinders etc.
Extruded polystyrene is slightly denser and therefore slightly stronger in compression than expanded polystyrene but has a lower thermal conductivity. It has a closed cell structure with very low water absorption and vapour transmission properties. It will withstand continuous temperatures up to 75 degrees C and can be easily worked with normal hand tools.

In order to comply with EC regulations, blowing agents should be CFC and HCFC free--zero ozone depletion potential--and have low global warming impact.
APPLICATION
Basements and walls,

Masonry cavity walls,

Ground bearing floors,

Suspended concrete floors,

Separating floors,

Underfloor heating system,

Exposed soffit,

Pitched roofs,

Green/paved roofs,

Because of its high resistance to water absorption, extruded polystyrene can be used for floor insulation below the concrete slab and on inverted roofs where its resistance to mechanical damage from foot traffic is advantageous,

Polystyrene is also available laminated to tongue and groove moisture resistant flooring grade particle board for direct application to concrete floor slabs and laminated to plasterboard as a wall board.
Low thermal conductivity - Due to its closed air-filled cell structure that inhibits the passage of heat or cold, a high capacity for thermal insulation is achieved.

Lightweight and ease of handling and installation,

Has excellent mechanical properties making it good choice for load-bearing roof insulation, sub-pavement flooring, road-building, as load-bearing insulation.

Low water absorption - does not absorb moisture and its thermal and mechanical properties are unaffected by damp, humidity or moisture.

Chemical resistance - polystyrene is completely compatible with other materials used in construction including cements, plasters, salt etc.

Ageing resistance - material's properties are retained will last as long as the building itself.

Polystyrene is not altered by external agents such as fungi or parasites as they find no nutritional value in the material.
R-value Comparison Chart for Polystyrene Insulation products available at Insulation Shop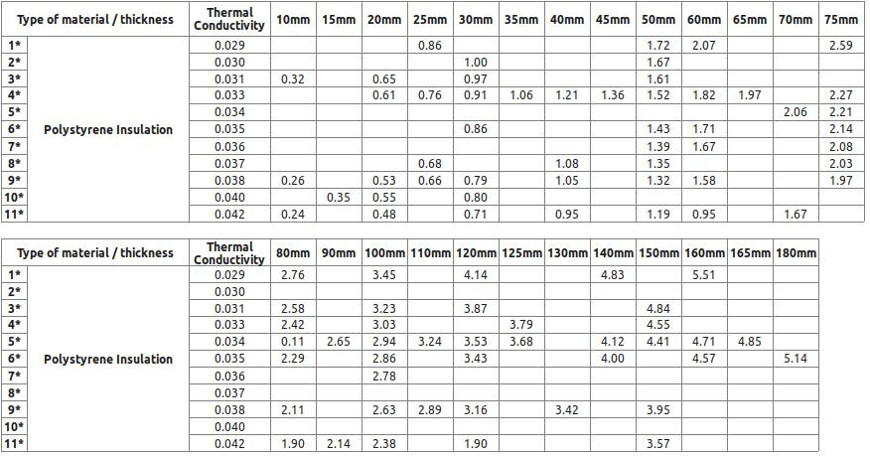 Legend
1* Cellecta Yelofoam X2i, Cellecta Hexatherm XPLY Plywood Thermal Laminate Roof Board

2* Knauf Polyfoam Linerboard XPS

3* Grey Polystyrene (Graphite) EPS

4* Floormate 300A XPS, Cellecta Hexatherm XROOF 300L XPS, Cellecta Hexatherm XFLOOR 300 XPS, Cellecta Hexatherm XCHiP Thermal Laminate Chipboard, Cellecta Hexatherm XCPL Board, Cellecta Hexatherm XDRAiN Drainage Channel Inverted Roof Board, Ravatherm Polyfoam Floorboard, Gyproc Thermaline Plus Insulated Plasterboard

5* Cellecta Hexatherm XROOF 300L XPS, Cellecta Hexatherm XFLOOR 500 XPS, Cellecta Hexatherm XCHiP Thermal Laminate Chipboard, Cellecta Hexatherm XCPL Laminated Board, Cellecta Hexatherm XPeri Perimeter Wall Insulation Board, Cellecta Hexatherm XMD Vertical Up-Stand Roof Board, Cellecta Hexatherm XDRAiN Drainage Channel Inverted Roof Board, Sundolitt XPS300 Extruded Polystyrene Board, Ravatherm Polyfoam Floorboard - Super grade

6* Cellecta Hexatherm XPOOL Swimming Pool XPS Insulation Board, Kingspan Styrozone N300R XPS Board, Cellecta Hexatherm XFLOOR 500 Thermal Floor Insulation Board, Cellecta Hexatherm XPeri Perimeter Wall Insulation Board

7* EPS100 Polystyrene Insulation Board Jablite, Kingspan Styrozone N500R XPS Board

8* EPS70 Polystyrene Insulation Board Kay-Metzeler

9* Jablite EPS70 Polystyrene Insulation Board, Jablite External Wall Polystyrene Insulation Board EPS, Knauf EPS Thermal Laminate Insulation Board

10* Gyproc Thermaline Basic insulated plasterboard

Choose subcategory or scroll down to see products
CHOOSE MANUFACTURERS or scroll down to see products