R-Value
R-VALUE
R-value is used to measure materials ability to resist heat or in other words, resistance of a material unit to heat transfer. R-value figure is usualy provided by the manufacturer of a particular insulation product and is shown in the product description. R-value figure can be calculated from the equation:

R value = thickness (m)/Thermal Conductivity (W/mK)

Unlike thermal conductivity, thermal resistance (R-values) solely depend on the material's thickness. Thicker insulation has higher thermal resistance and lower thermal conductivity.
R-value comparison Chart for full range of products available at Insulation Shop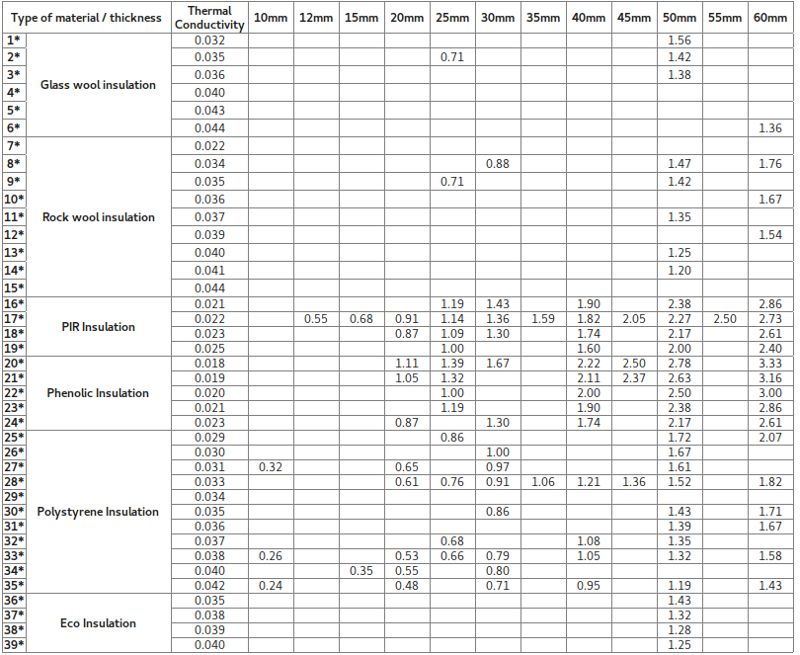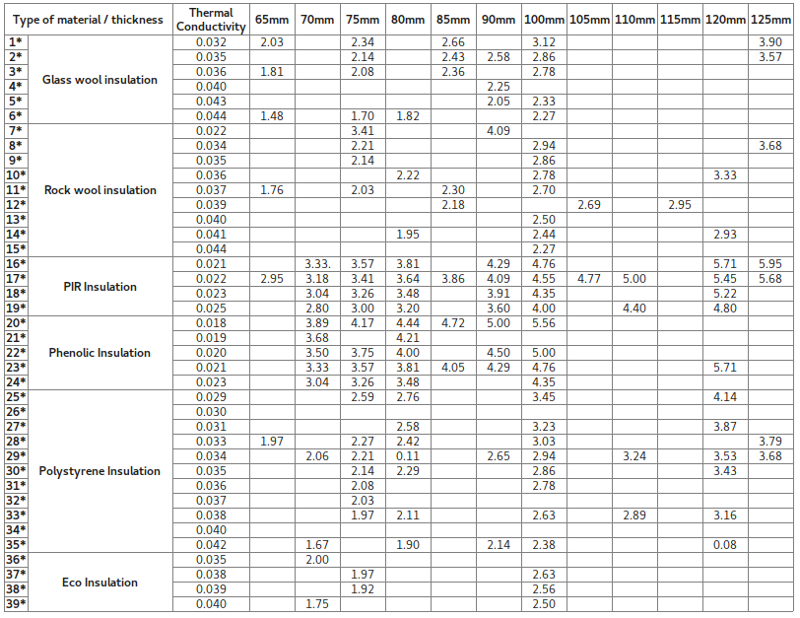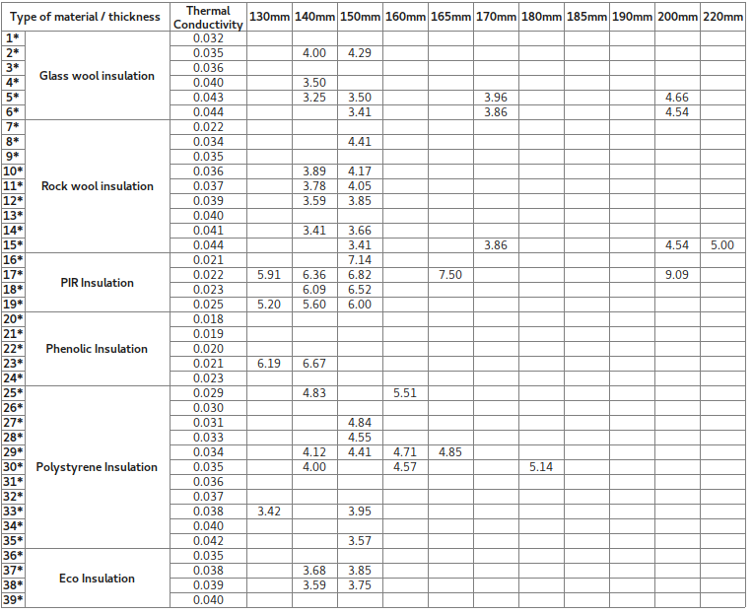 Legend
1* Knauf Earthwool Rafter Roll, Isover Hi-Cav CWS 32, Isover Timber Frame Batt 32, URSA 32 Cavity Insulation Batt, DriTherm 32 Ultimate Cavity Slab

2* Isover Timber Frame Batt 35, URSA Acoustic Insulation Roll, URSA 35 Cavity Insulation Batt

3* Isover Acoustic Partition Roll, Isover RD Party Wall Roll, Isover Acoustic Multi-Purpose Slab, Isover Acoustic High Performance Slab, Isover Cavity Wall Slab, Superglass Superwall 36 Cavity Wall Batt

4* Isover Timber Frame Batt 40

5* Isover Spacesaver Loft Roll, Isover Timber Frame Batt 43

6* Superglass Multi Acoustic Insulation Roll, Superglass Multi Roll 44 Loft Insulation, URSA 10 Loft Roll, URSA 10 Diverso Loft Roll, Earthwool Loft Roll 44

7* Rockwool Firestop Cavity Slab

8* Knauf DriTherm Cavity Slab 34, Rockwool RW3 Slab (Prorox SL 930)

9* Earthwool Acoustic Insulation Roll, Earthwool RS45 Universal Slab, Earthwool RS60 Universal Slab, Earthwool RS100 Universal Slab, Rockwool RWA45 (Prorox SL920)

10* Cellecta Hexatherm XPOOL Swimming Pool XPS Insulation Board, Kingspan Styrozone N300R XPS Board, Cellecta Hexatherm XFLOOR 500 Thermal Floor Insulation Board, Cellecta Hexatherm XPeri Perimeter Wall Insulation Board

11* Earthwool Flexible Slab, Knauf DriTherm Cavity Slab 37, Rockwool Cavity Batt, Rockwool Flexi Insulation Slab

12* Rockwool Hardrock Multi-Fix Dual Density Board

13* Rockwool RW5 Slab (Prorox SL960)

14* Rockwool Fasrock-LL External Wall Insulation Slab

15* Earthwool Loft Roll 44, Rockwool RollBatt Loft Insulation, Rockwool Roll Loft Insulation, Rockwool Twin Roll

16* Celotex FI5000 Insulation Board, Celotex FR5000 Fire Resistant Insulation Board, Xtratherm Thin-R Full Fill Cavity Wall Insulation, Xtratherm XtroLiner Insulation Board, Celotex CF5000 Cavity Full fill Insulation Board

17* Celotex TB4000 Insulation Board, Celotex GA4000 Insulation Board, Celotex XR4000 Insulation Board, Celotex CW4000 Insulation Board, Celotex Crown-Bond Flat Roof Insulation Board, Celotex Crown-Fix Flat Roof Insulation Board, Celotex Crown-Up Flat Roof Insulation Board, Kingspan Thermawall TW55 Wall Insulation Board, Kingspan Thermapitch TP10 Pitched Roof Insulation Board, Kingspan Thermaroof TR26 Insulation Board, Xtratherm Thin-R Insulation Board, Xtratherm Thin-R XT/CW Partial Fill Cavity Wall Insulation, Xtratherm Thin-R Hyfloor Insulation Board, Xtratherm Thin-R XT/TL- MF Thermal Liner - Mech Fix, Xtratherm Thin-R XT/TL Thermal Liner Dot & Dab, Recticel Eurothane GP Insulation Board, EcoTherm EcoVersal Insulation Board, Celotex PL4000 Insulated Plasterboard, Kingspan Thermaroof TR31 bonded to Plywood, Xtratherm Plydeck bonded to OSB, Gyproc Thermaline Insulated Plasterboard, Gyproc Thermaline MR Insulated Plasterboard, Recticel Plylok Flat Roof Insulation bonded to Plywood, EcoTherm EcoLiner Insulated Plasterboard, EcoTherm Eco-Deck - Insulated Flat Roof Decking

18* Kingspan Thermafloor TF70 Insulation Board

19* Kingspan Thermaroof TR24 Insulation Board, Kingspan Thermaroof TR27 Insulation Board, Xtratherm Flat Roof Board FR-MG, Xtratherm Flat Roof Board FR-BGM

20* Kingspan Kooltherm K103 Floorboard, Kingspan Kooltherm K106 Cavity Board, Kingspan Kooltherm K108 Cavity Board, Kingspan Kooltherm K110 Soffit Board, Kingspan Kooltherm K118 Insulated Plasterboard

21* Kingspan Kooltherm K17 Plasterboard, Kingspan Kooltherm K18 Plasterboard

22* Kingspan Kooltherm K3 Floorboard, Kingspan Kooltherm K15 Rainscreen Board, Gyproc Thermaline Super Insulated Plasterboard, Kingspan Kooltherm K12 Framing Board, Kingspan Kooltherm K15 Rainscreen Board, Xtratherm Safe-R Thermal Liner SR/TB-MF Mex-Fix, Xtratherm Safe-R Thermal Liner SR/TB Dot & Dab

23* Kingspan Kooltherm K7 Pitched Roof Board, Kooltherm K10 FM Soffit Insulation Board, Xtratherm Safe-R insulation Board

24* Kingspan Kooltherm K5 External Wall Board, Kooltherm K8 Partial Fill Cavity Board

25* Cellecta Yelofoam X2i, Cellecta Hexatherm XPLY Plywood Thermal Laminate Roof Board

26* Knauf Polyfoam Linerboard XPS

27* Grey Polystyrene (Graphite) EPS

28* Floormate 300A XPS, Cellecta Hexatherm XROOF 300L XPS, Cellecta Hexatherm XFLOOR 300 XPS, Cellecta Hexatherm XCHiP Thermal Laminate Chipboard, Cellecta Hexatherm XCPL Board, Cellecta Hexatherm XDRAiN, Ravatherm Polyfoam Floorboard, Gyproc Thermaline Plus Insulated Plasterboard

29* Cellecta Hexatherm XROOF 300L XPS, Cellecta Hexatherm XCHiP Thermal Laminate Chipboard, Cellecta Hexatherm XCPL Laminated Board, Cellecta Hexatherm XPeri Perimeter Wall Insulation Board, Cellecta Hexatherm XMD Vertical Up-Stand Roof Board, Cellecta Hexatherm XDRAiN Drainage Channel Inverted Roof Board, Sundolitt XPS300 Extruded Polystyrene Board, Ravatherm Polyfoam Floorboard - Super grade

30* Cellecta Hexatherm XPOOL Swimming Pool XPS Insulation Board, Kingspan Styrozone N300R XPS Board, Cellecta Hexatherm XFLOOR 500 Thermal Floor Insulation Board, Cellecta Hexatherm XPeri Perimeter Wall Insulation Board

31* EPS100 Polystyrene Insulation Board Jablite, Kingspan Styrozone N500R XPS Board

32* EPS70 Polystyrene Insulation Board Kay-Metzeler

33* Jablite EPS70 Polystyrene Insulation Board, Jablite External Wall Polystyrene Insulation Board EPS, Knauf EPS Thermal Laminate Insulation Board

34* Gyproc Thermaline Basic insulated plasterboard

36* Thermafleece UltraWool Flexible slab

37* ThermaFleece CosyWool Flexible Slab

38* ThermaFleece CosyWool Roll

39* ThermaFleece SupaLoft Itch Free Loft Insulation, ThermaFleece NatraHemp Flexible Slab

Categories
by type of material:
by application:
others: