22mm Knauf EPS Thermal Laminate Insulation Board - (12.5mm EPS and 9.5mm Plasterboard)
22mm Knauf EPS Thermal Laminate Insulation Board - (12.5mm EPS + 9.5mm Plasterboard)
Thermal Conductivity: 0.038W/mK
22mm Knauf EPS Thermal Laminate Insulation Board is a perfect solution for insulation and drylining in walls and warm roof constructions, in both remodelling and new build projects. Consisting of 9.5mm tapered edge wallboard bonded to 12.5mm expanded polystyrene, offering great thermal and a level of acoustic insulation. The products thermal and mechanical characteristics provide compliance with applicable Building Regulation, Approved Document L which is obligatory for all dwelling and non-dwelling residential units. Also, the boards help houses meet the energy efficiency requirements set by the Code for Sustainable Homes which sets a goal of reaching level 6, carbon neutral homes by 2016. Due to their thickness, Knauf Thermal Laminate Boards provide great thermal insulation, with the minimal impact on internal usable space. Apart from significant thermal performance, the boards also contribute to the structural element fire performance (designated as Class 0 materials) and also provide a level of sound insulation.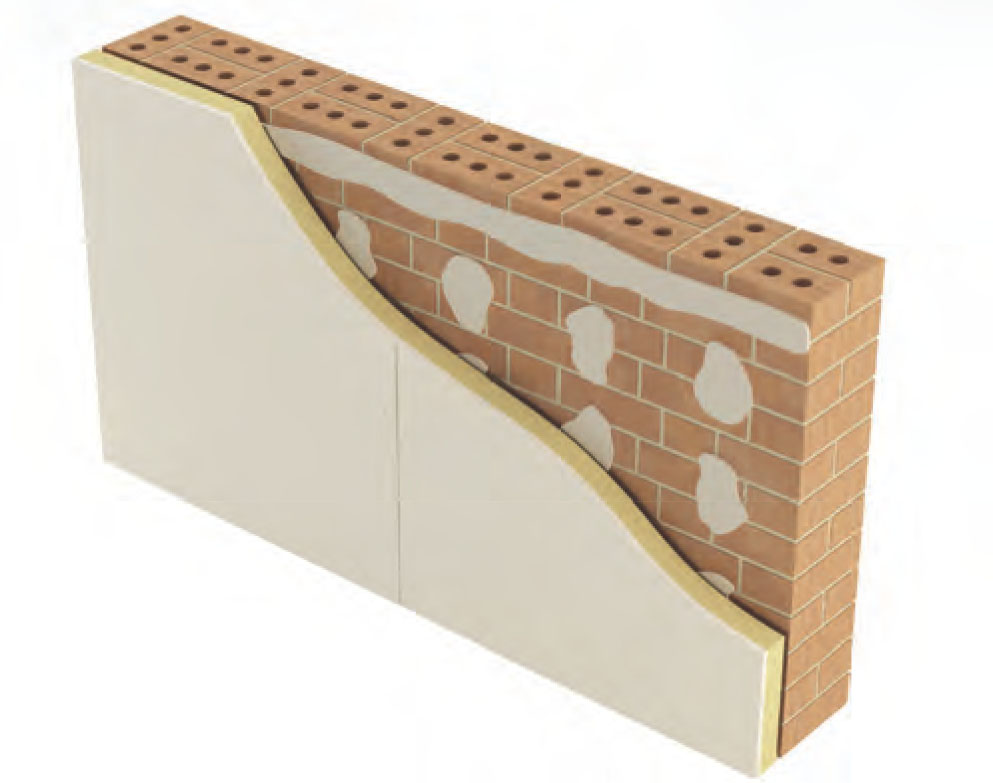 CHARACTERISTICS
Easy and simple to cut, handle, install and maintain,
Suitable for both dot-and-dab and direct fix installation,
Environmentally friendly, since FC/HCFC free and has 0 ODP and low GWP,
Versatile,
Ensures compliance with applicable Approved Document L;
Suitable for new build, refurbishment and extension projects in both residential and commercial buildings;
High level of fire and acoustic performance.
APPLICATION
In new build, walls and roofs refurbishments,
Warm roof constructions,
Retro-fit older properties.

INSTALLATION
Knauf Thermal Laminate Boards should be stacked on a flat surface and kept in clean and dry conditions.
The boards should be carried on their edges while proper ventilation should be provided during cutting.
It is advised not to use the product in the extreme temperatures exceeding 50C or humidity levels exceeding 90%, since these environments can change the state of the boards and affect its serviceability and physical performance.
Knauf Insulating Laminates can be fixed using the Knauf Direct Bonding system to line brick or block walls, or mechanically fixed directly to timber in new, refurbished or extended residential and commercial buildings.
For roof linings, Knauf Insulating Laminates are mechanically fixed directly over rafters, with additional Knauf insulation between the rafters.

CERTIFICATION
The product is in compliance with:
is designated as Class O material under the Building Regulations 1991, Approved document B
meets BS476: Part 6: 1989, with the fire propagation index I = 12 and under BS476: Part 7: 1987 surface spread of flame are designated Class 1;
is not classified as hazardous under CHIP2 Regulations 1994 and the Control of Substances Hazardous to Health (COSHH) Regulations 1994.

Knauf EPS Thermal Laminate Brochure