50mm DriTherm 37 Standard Cavity Slab Knauf (pack of 12)
50mm DriTherm 37 Standard Cavity Slab Knauf (pack of 12)
Thermal Conductivity: 0.037W/mK
Fire Rating (Reaction to Fire): A1(Non-combustible)
50mm DriTherm 37 Standard Cavity Slabs are rigid slabs of non-combustible, glass mineral wool with a water-repellent additive. They are 455mm wide to suit standard vertical wall tie spacing, ensuring a closed joint with adjacent slabs. This product has a special additive to make it water repellent.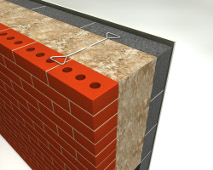 Masonry cavity external walls, either partially filling or fully filling the cavity

For use in buildings up to 12m high in any exposure zone

For use in multi-storey applications up to 25m in height
DriTherm 37 Standard Cavity Slabs have been used in many buildings over 25m in height, including exposed coastal sites. Approval can be sought from Knauf Insulation Ltd and the British Board of Agrment for DriTherm Cavity Slabs use in buildings over 25m high.
Product is odourless, rot proof, non-hygroscopic,

Easy to handle and install,


Lightweight and easily cut to size,

Slabs knit together, thus eliminating air gaps between adjacent slabs,

Non-combustible,

Contain a water repellent silicone binder to stop water to pass through the slab and reach the inner leaf of masonry,

Does not sustain vermin and will not encourage the growth of fungi, mould or bacteria.

Virtually no vapour resistance, allowing water vapour to pass freely through the slab and therefore allowing wall to breathe,

No capillary action across the cavity or from below DPC level,

Free from CFCs, HCFCs and any other material with ozone depletion potential in its manufacture and content and represents no known threat to the environment.

Conforms to BS 3533: 1981

Manufactured in accordance with BSI Quality Assurance Standard BS EN ISO 9001: 2000

BBA certified - 95/3212, which approves its use in buildings up to 12m in height in any exposure zone, and in multi-storey applications up to 25m in height.