25mm Xtratherm XtroLiner XO/PR Pitched Roof PIR Insulation Board Fire Rated - Pack of 12
25mm Xtratherm XtroLiner XO/PR Pitched Roof PIR Insulation Board Fire Rated - Pack of 12 | XO/FB | XO/RS | XO/ST | XO/STP | XO/UF
Thermal Conductivity: 0.021W/mK
Compressive Strength: 150kPa
Water vapour resistivity: 100MN.s/g.m
25mm XtroLiner XO/PR board has a core of modified polyisocyanurate (PIR) bonded to low emissivity textured aluminium foil facings. It offers excellent insulation performance with thermal conductivity of 0.021 W/mK and a Class 'O' fire rating. XtroLiner XO/PR is CFC & HCFC free and is manufactured under the highest standards of ISO 9001 and 14001 Quality and Environmental Management Systems.
Using Xtratherm XO/PR on sloped roof areas can provide the most efficient U-values with minimal intrusion into valuable living space. Insulating above and between the roof timbers ensures that the structure is kept at, or near the internal environmental conditions, reducing thermal stress and condensation risk. Placing XtroLiner XO/PR between and/or below the rafter creates a Ventilated Roof.
High Thermal Performance Rigid Insulation,
Easy to Install,
Non-deleterious material,
Suitable for new build and refurbishment,
Manufactured with zero ODP blowing agent,
Reduces Thermal Bridging, Certified Lambda Value as low as 0.021 W/mK,
Closed cell structure – moisture resistant
Pitched roof
Ventilated roof
Warm roof
Above and between rafters
Under rafters, above ceilings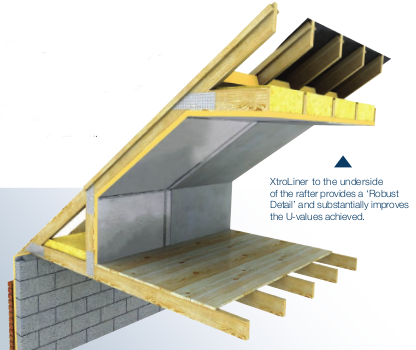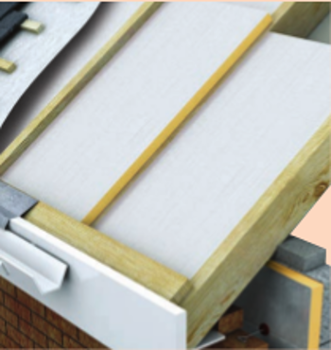 Allow for ventilation gaps normally 50mm. (May be reduced depending on breather membrane certification).

Cut XtroLiner boards to fit tightly between rafters flush with rafter bottom. An additional 2nd layer should be added to the underside of the rafter.
Run second layer transverse to the first.
Temporarily fix with nails.
Provide vapour control layer (Aluminium tape joints).
Finish with 12.5mm plasterboard fixed with drylining screws. S
crew fix every 150mm, 12mm from edge of boards.
All board edges should be supported.
Ensure cavity wall insulation has continued to roof height to engage with roof insulation.
Fix a timber stop rail to end of rafter at eaves.
Lay Xtratherm XO/PR insulation stagger jointed over rafters ensuring joints are supported by rafters.
Ensure boards are tightly butted fill any gaps with expanding foam. A vapour permeable underlay should be fitted; refer to manufacturers Agrèment certification.
Providing an unvented void under the membrane can improve the thermal performance.
Fix counter batten with approved fixings.
Ventilation may have to be provided subject to certification.
A second layer of insulation may be added between the rafters.
Provide a vapour control layer to the underside of the construction. Current Building Regulations/Standards should be considered with regard to the requirements for and/or provision of fire stops.

Xtratherm XO/PR is manufactured to EN ISO 13165 under quality systems approved to EN ISO 9001:2000 quality management, EN ISO 14001:2004 environmental management and BS OHSAS 18001 Health and Safety Management System.