27.5mm Xtratherm XT/TL Thermal Liner Dot and Dab (15mm PIR Insulation bonded to 12.5mm Plasterboard)
27.5mm Xtratherm XT/TL Thermal Liner Dot and Dab (15mm PIR Insulation bonded to 12.5mm Plasterboard)
Thermal Conductivity: 0.022W/mK
Compressive Strength: 140kPa
Surface Spread of Flame: Class 1
27.5mm Xtratherm XT/TL Thermal Liner Dot and Dab Insulated Plasterboard is a high performance rigid insulation board made from 15mm Xtratherm PIR core faced with composite kraft paper bonded to 12.5mm plasterboard, specially designed for internal walls dry lining and insulation, due to its closed cell composition and tight facings that provide not only thermal insulation but also high level of moisture resistance and a vapour control layer. The board also provides a level of fire resistance due to the continuous adhesive ribbons, especially around openings, such as those around windows and doors. The product offers environmental protection, since produced with no harmful gasses, with 0 ODP and less than five GWP. It has very broad application in both new and existing masonry and solid walls and ceilings, regardless of the material, including the insulation of concrete blocks, clay bricks or stone blocks. Maximum installation height for this system is 3m.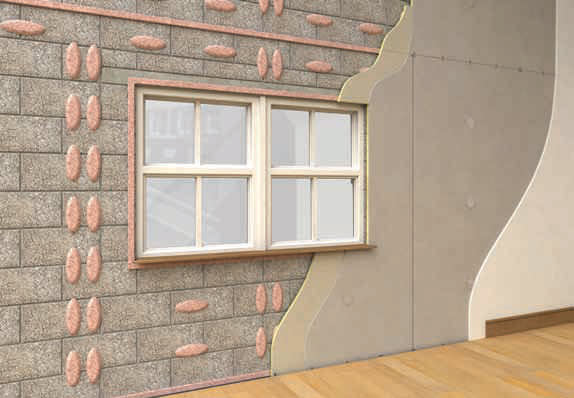 Integral vapour control layer,

Drylining and Insulation in one fix,

Shorter drying time,

12.5mm tapered edge plasterboard,

(You can also order square edge plasterboard.)

Polyiso (PIR) core with a composite kraft paper facing,

Thermal Conductivity 0.022 (W/mK) - - PIR core,




Easy to cut and install and maintenance free,

Highly

durable, able to meet the life span of the building,

Stable, rot proof and non-deleterious,

Does not promote infestation,

Recommended by the Energy Saving Trust.
The boards must be stored in clean conditions and properly covered.
Align the XT/TL Thermal Liner squarely on wall.
Allow a 15mm expansion joint at the top and bottom of the panel, and fill with foam filler.
Mark the position of the panel on the wall.
Apply adhesive dabs to the wall; Vertical dabs @ 300mm centres 25mm in from edge.
Dabs 50-75mm wide approx 25mm deep to allow for tamping. Total contact with boards area should be 20%.
Ensure a 50mm continuous ribbon top and bottom and around any openings to provide

firestops, and to achieve predicted U-value and airtightness performance.

Lift the XT/TL Thermal Liner into position using wedges on the floor. Apply pressure to the board to level and embed in the adhesive.

Insulation should be cut back to accommodate an adjoining panel at external corners.

When the adhesive has dried, 3 mechanical fixings (thermally broken) should be fixed through the centre of the board. Setting out and planning is essential.



This product is manufactured to EN 13165 standards under Quality Systems approved to EN ISO 9001:2008 quality management, EN ISO 14001:2004 environmental management and BS OHSAS 18001 Health and Safety Management System;

Meets the requirements of the Building Regulations 1997 2008;

Energy Savings Trust recommended.