65mm Kingspan Kooltherm K110 Soffit Insulation Board (pack of 4)
Product Code:

A1-2086

Brand:

Kingspan


(tech. support: 01544 388 601)

Model and Size:

2400x1200mm - 11.52m2

Pack Coverage:

11.52m2

Delivery Time:

7 - 10 days
---
Price:

InStock

NewCondition

GBP

407.27

£339.39

(£407.27 inc VAT)

Price per m2: £29.46/m2 (£35.35/m2 inc VAT)

---

2 or more £309.65

(£371.58 inc VAT)

3 or more £307.13

(£368.56 inc VAT)

4 or more £301.97

(£362.36 inc VAT)
other thicknesses
65mm Kingspan Kooltherm K110 Soffit Insulation Board (pack of 4)
Thermal Conductivity: 0.018W/mK
Compressive Strength: 100kPa
Water vapour resistivity: 41.6MN.s/g.m
Fire Rating (Reaction to Fire): C(Class 1)
65mm Kingspan Kooltherm K110 Soffit Board is a premium performance lower lambda insulation with a fibre-free rigid thermoset phenolic core, a 6mm glass tissue based facing on its front surface and low emissivity composite foil on its reverse surface. Manufactured with a blowing agent that has zero Ozone Depletion Potential (ODP) and low Global Warming Potential (GWP).

Safe and easy to handle and install,




Water vapour resistant,



Fire rated - Euroclass: C-s1,d0,


Non-deleterious,




Very durable, depending on the structure and conditions of use,




Unaffected by air filtration,




High performance thermoset rigid insulation,




Applicable in both new build and refurbishment projects,




Environmentally friendly, with 0 ODP and low GWP.



Kingspan Kooltherm K110 Soffit Board is used for structural ceilings, including:
concrete soffits;




timber battens and




proprietary grid systems.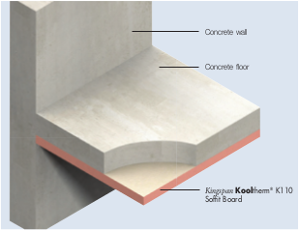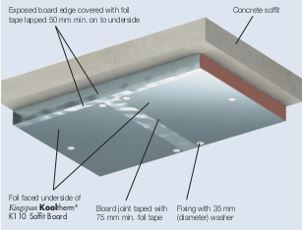 INSTALLATION
Insulation boards should be installed with joints lightly butted.

The number of mechanical fixings required will vary with the geographical location of the building, the local topography, the height and width of the soffit concerned, and the soffit construction.

A minimum of 11 mechanical fixings, with a minimum head diameter of 35 mm, are required to secure the insulation board to the soffit.

Where the insulation boards may be subject to external wind pressure, the requirement for additional fixings should be assessed in accordance with BS/I.S. EN 199114: 2005 (National Annex to Eurocode 1 Actions on Structures. General Actions. Wind Actions).

The fixings should be evenly distributed over the whole area of the board, and must offer a minimum 40 mm penetration into a solid substrate.

Fixings at board edges must be located > 50 mm and < 150 mm from edges and corners of the board and not overlap board joints.

Depending upon the fixing type, insulation boards can also be fitted by a shot fired fixing method, which can result in significantly faster installation times.



ISO 9001: 2015 (Quality Management Systems. Requirements),

ISO 14001: 2015 (Environmental Management Systems. Requirements),

BS/I.S. OHSAS 18001: 2007 (Occupational Health & Safety Management Systems. Requirements)

ISO 50001: 2011 (Energy Management Systems. Requirements with guidance for use).



This product is listed in the following categories and systems (click to show).
This product is listed in the following categories and systems (click to hide).