Marmox Thermoblock 215mm (box of 10).
Thermal Conductivity: 0.052W/mK
215mm Marmox Thermoblock is a load-bearing and highly insulating block made from extruded polystyrene (XPS) reinforced with polymer-modified concrete cylinders and covered with reinforced polymer-modified concrete mortar. It is designed to be a perfect, thermally insulating replacement for wall bricks and blocks bottom course, thus preventing thermal bridging usually occurring at floor and wall junctions. Although the blocks should not be used instead of a proper damp proofing course, they can present a moisture barrier due to their water impermeability, which means that they will not deteriorate nor lose their insulation power even when installed in damp and humid conditions. The blocks are installed between construction materials that have different R value and thus prevent thermal bridging.
In compliance with Part A, C and L of the Building regulations;
Presents a great solution for thermal bridging at floor and wall junctions;
Moisture resistant and can reduce the risk of mould growth;
Meets the standards prescribed by the Code for sustainable homes;
Stable, strong, durable and easy to install;
Not classified as hazardous;
Class O rated;
Has 0 ODP and low GWP.
Marmox Thermoblock can be used
at the inner leaf base in the perimeter wall,
outer leaves,
solid single leaf walls,
parapets,
party walls,
roof and wall junctions,
beneath door and window frames.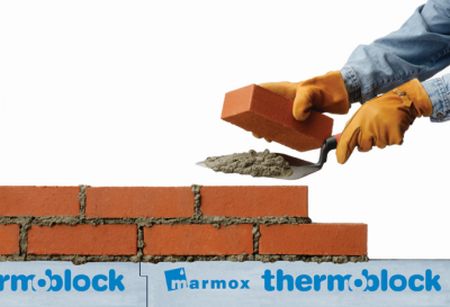 Prior to installing Thermoblocks, it is important to make sure that these are fitted into the wall base so that their top surface is below the adjoining wall level, whereas the surface of the blocks should never be left exposed. The blocks are laid next to each other and never on top of each other. As upper mentioned, although possessing a level of moisture resistance, the blocks should never be used as a substitute for a damp proof course.
Marmox Thermoblock is fixed onto the flat foundation concrete, blocks or bricks surface, with proper brick laying mortar. Since the blocks have staggered joints, in order of forming a rigid structure, they should be pressed into position and tapped until they are completely stable and levelled. The blocks need to be tightly fitted next to one another, whereas the gap between the blocks should not exceed 1mm. If cutting the blocks is required, these can easily be shaped with a standard handsaw or alternatively brick rotary blade cutter.
The first layer of blocks or bricks should be installed directly onto the Thermoblock. In order of uniformly distributing the weight throughout the entire construction, make sure that a layer of lightweight bricks, if used, is at least 15mm thick. If using indented or hollow bricks, make sure that the hollow is facing upwards, since Thermablock needs to be presented to a flat surface.
Part A, C and L of the Building regulations;
the Code for Sustainable Homes;
BBA certified, Agrment Certificate 10/4778.