30mm Rockwool RW3 Slab (Prorox SL930) - pack of 15
30mm Rockwool RW3 Slab (Prorox SL930) - pack of 15
Thermal Conductivity: 0.034W/mK
Fire Rating (Reaction to Fire): A1(Non-combustible)
30mm Rockwool RW3 Slab (Prorox SL 930) is a semi-rigid resin bonded slab, providing great thermal, acoustic and fire resistance, designed to be used in various applications in floors, walls and roofs, including special applications in industrial buildings for insulation of ships, offshore platforms, boiler rooms, as well as power, oil and petrochem generation applications. It is classified as non-combustible and also highly water repellent and provides acoustic insulation since able to reduce noise, both through noise absorption and impeding sound transmission in regard to structure-borne and airborne sound.
Great thermal, acoustic and fire performance,
Easy to cut and install and maintenance free,
Zero ODP and GWP < 5,
CFC and HCFC free,
Water and fire resistant,
Highly durable and cost effective,
Able to resist high temperatures.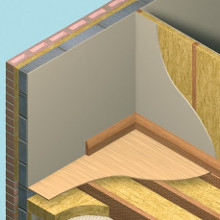 Rockwool RW3 (Prorox SL 930) is applicable in walls, roofs, floors in residential and industrial properties.
Rockwool RW3 (Prorox SL 930) can be easily cut to the desired size with a sharp knife and requires no maintenance once it is installed. It is wrapped in polyethylene and the pallets are shrouded with a waterproof hood, which means that the product can be stored outside.
When installed as an acoustic infill to stud partition, it should be tightly installed between the timber studs and if required, cut to fit below and above the noggins, whereas the acoustic infill and services chasing should be done with a prior consent of the supervising officer.
Conforms to EN 14303:2009+A1:2013;
Tested in accordance with BS EN 826: 1996;
BS EN 13162: 2008;
BS EN 14303: 2009;
Satisfy the requirements of BS 5422;
Rated as non-combustible in accordance with ISO 1182 and IMO A. 799.