Floating Floors Insulation Tips
07 Aug
0 Comment(s)
21511 View(s)
Useful Ways of Improving your Home's Insulation
Since there are many alternative materials in construction, thus there are many different materials and different methods of insulation. In order of making sure that the installed insulation will do its job, it is very important that it is adjusted to the type of construction of your walls, floors, ceilings etc. Namely, choosing the best insulation material is always a half of an insulation project, since here you need to take into account many factors that will influence the effectiveness of insulation. That is why we advise you choose carefully, since if you end up with inadequate insulation product, you will only lose a vast amount of money in the process and end with unsatisfactory results. You will notice that although there are materials that are quite versatile and can have many applications, in some cases, certain materials will do a much better job than others, since they are especially designed to provide protection and insulation for specific parts of the building or specific constructions. Well aware of that fact, we herewith offer some floating floor insulation tips.
About Floating Floors
Floating floors, as the name states, is a type of flooring (or more precisely, a type of floor construction) that is not anyhow directly attached i.e. glued or nailed to the subfloor substrate, but is instead "floating" over it. It consists of a number of pieces that are connected to each other, but not to the subfloor. It can be made from many different materials such as gypsum or concrete boards or chipboards, soft and hardwood and accordingly laid over existing flooring (which makes it perfect for refurbishment and retrofit domestic projects) made out of tiles, plywood, concrete, timer floorboards, but in most cases over some floating floor insulation, such as rigid insulation panels.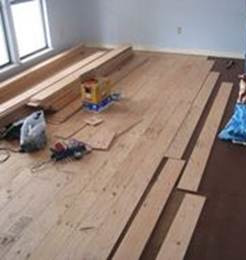 There are many types of floating floor constructions, mainly differing in materials they consist of. For example, wooden floating floors can be either made of real wood (soft or hard wood) or laminate. Real wood timber floating floors are usually more resilient than the alternative, but are somewhat harder to maintain since they can be sanded over a limited number of times, unlike laminate floors which are basically maintenance-free.
Basic advantages of floating floor include:
they are lightweight and easy to install;

they require no drying-out time;

they are less expensive than the alternatives;

they are very flexible, accommodating to any movement in the floor, expending and contracting so that there are no gaps in the flooring,

they can look quite stylish, depending on the chosen material.
On the other hand, bear in mind that floating floors are not as stabile and load-bearing as floors attached to the subfloor, why they usually need some additional materials in case considerable loads are expected.
How to Insulate Them?
If you have opted for this type of construction, the only question remaining is how to insulate your floating floor. Basically, since floating floors are lifted above the substrate, they basically create a cavity that should somehow be filled in, and what is better than attaching the floor to some highly efficient insulation material. Namely, in situations where moisture can present a problem, it is important to create a barrier between the subfloor and the floating floor. Also, proper floating floor insulation can also serve as a great noise barrier, which can come in handy.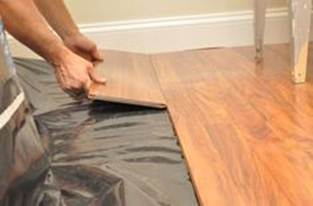 Now, when choosing the best floating floor insulation, you need a material that will not only control the heat movement, but that will also strengthen the entire construction. This is why we believe your best choice would be rigid insulation boards, which are among the most efficient insulation materials. These are very easy to attach to almost any flat surface and will provide just the level of protection and insulation you need. For example, you could opt for Kingspan Thermafloor TF70 PIR Insulation Board which comes in many thicknesses, from 20 to 120mm, meaning that you can choose a thicker board for improved soundness. The boards are consisted of rigid thermoset core faced with composite foil facing on both sides, requiring mo vapour control layer and resistant to passage of water vapour. They are very versatile and can be used to almost any type of flooring including solid concrete floors, block floors and suspended timber floors and are an ideal solution for floating floor insulation.

As upper mentioned, the floating floor construction includes a number of layers, carefully stacked up on top of each other. Starting from the bottom, the floating floor insulation is laid over the concrete slab and screed and damp proof membrane (if necessary). The flooring is separated from the insulation board with usually polythene and covered with the floor finish, such as carpet or laminate floor, for example.
Order floor insulation products online and save your money and time! Contact Insulation London via email at info@insulationlondon.co.
---