How to Insulate a Basement - Complete Guide
by Mark Row

Insulating Interior Basement Walls and Ceiling
Basement insulation is an integral part of overall home insulation and can drastically improve your home thermal performance and contribute to energy efficiency of your home. Basements are usually damp and cold places which can drag out a lot of heat from the upper floors while allowing the cold air to penetrate through the ceiling and numerous cracks and holes. This is exactly why proper insulation is so important, especially if you are planning on transforming your basement space into a living space, which has become quite common nowadays. Know that you could insulate your basement yourself, with proper material and some advice which we will offer right here.
Basement could be insulated in three basic ways, by insulating its interior wall, exterior wall or insulating the basement ceiling. Each insulation method has its advantages and disadvantages which should be considered prior to insulation installation. Also know that these methods do not exclude each other, since in some cases, both internal and external wall protection may be necessary, alongside ceiling insulation.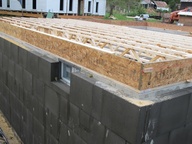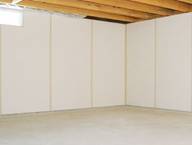 Now, while exterior wall insulation is usually done when constructing and involves more complicated and demanding operations like digging the soil around the building, internal wall insulation can be done at any time and regardless of the weather conditions, since the work is done on the inside. On the other hand, always take care of the moisture problem in your basement before insulating on the inside and take the wiring and piping into consideration, since interior wall lining will affect these.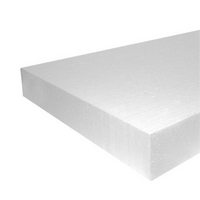 Now, let's talk about installation process. One option in insulating your basement is by using rigid polystyrene insulation boards, like Jablite boards which are produced from expanded polystyrene, very lightweight, making them easy to handle and cut to desired size and shape, rot proof (which is particularly important with basements as usually very humid spaces) and available with flame retardant. Follow a few simple steps given below.
The first thing you need to do is check for any water leaks in your basement. All the cracks around windows, electrical wires and plumbing alongside any holes or cracks in the wall need to be properly sealed prior to installing insulation.
The next thing you need to do is to

clean the interior

wall from any sharp edges and foreign materials so that the board can be tightly fitted onto the wall.
Make the needed measurements of the wall and apply it to the insulation board so you could cut the board into right size and fit it onto the wall and around basement windows. Being very lightweight, insulation boards could be cut with nothing more than a utility knife.
The next step in proper basement insulation involves placing the boards onto the wall, by adding adequate adhesive, complementary to polystyrene boards (make sure you do not use adhesives with solvents, since these will affect the polystyrene boards deterioration). Apply the adhesive equally on corners and center of the board and they are ready to go onto the wall. In order of creating a vapour barrier, make sure that the boards are properly placed next to each other, with no more than one millimeter space between. You could achieve this by applying adhesive to the side of every board which will keep the boards tightly together.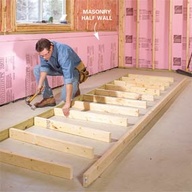 Further on, you will need to construct a timber frame wall to go up against the insulation boards in order of keeping them in place and giving a groundwork for adding a drywall or other finish. Use 2x2 wood studs (at least) for this and place them 24 inches on center. Fasten the constructed frame wall onto the upper floor joists and the basement floor. An alternative to attaching the previously constructed wall frame onto the wall is directly firming the 1x3 spruce boards onto the insulation boards, both vertically and horizontally on the previously places marked with chalk lines. Use a hammer drill to drill the holes through the board and the basement wall and fasten the spruce boards by using spring spikes. After placing the horizontal spruce boards screw the vertical ones by using drywall screws. Leave some space between the frame wall and the insulation board for placing the wiring within the frame wall where shallow electrical boxes can be used. Now, you can consider your basement insulation project complete.
If you need more information about Basement Insulation Materials feel free to post your questions in the comments section below.
---
---