100mm Superglass Multi Roll 44 Loft Insulation
100mm Superglass Multi Roll 44 Loft Insulation
Thermal Conductivity: 0.044W/mK
Fire Rating (Reaction to Fire): A1(Non-combustible)
100mm Superglass Multi Roll 44 Loft Insulation is flexible and lightweight mineral wool product, specially designed for thermal and acoustic loft insulation. Its resilient and non-combustible structure makes it the perfect choice for not only loft insulation but also all other common applications where it is required for the insulation material to be split and fit into the designated area. On the other hand, its recycled content also makes it environmentally friendly, with 0 ODP and GWP potential and no CFC and HCFC.
This is the durable solution for your loft remodelling project, since it will not degrade, sustain vermin, nor allow the growth of fungi, bacteria or mould, also having low vapour resistance, allowing vapour to pass through the insulation material, thus lowering the risk of condensation and moisture affecting and degrading the insulation.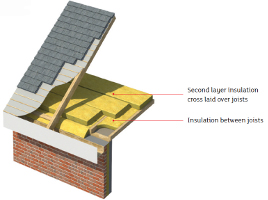 Flexible, resilient, durable and versatile,
Non-combustible and vermin, mould, bacteria and fungi resistant,
High vapour resistance,
Cost effective,
High thermal and acoustic insulation,
Zero GWP and ODP,
No CFC and HCFC,
Lightweight and very easy to install,
Certified, with a BRE Green Guide Rating of A+;
Superglass Multi Roll is used for thermal and acoustic insulation of loft spaces, but can also be successfully applied to other areas where the weight of insulation is of relevance.
In order of complying with the thickness of loft insulation prescribed by applicable regulation, the material is laid in two layers the first one is laid between the joists and the top layer is cross laid over the joists. The roll can be easily split, allowing the customer to choose from any of the three most common widths.


Superglass Multi Roll 44
Classified as non-combustible with a Reaction to Fire Classification A1- BS EN 13501-1,
Manufactured to comply with the requirements of CE Marking 93/68/EEC and Technical European Harmonised Standards BS EN 13162: 2012, BS EN 13172: 2012,
Manufactured in accordance with BSI Quality Assurance Standard BS EN 9001: 2012.