100mm ThermaFleece SupaSoft Itch Free Loft Insulation Roll 390mm wide (pack of 3)
100mm ThermaFleece SupaSoft Itch Free Loft Insulation Roll 390mm wide (pack of 3)
Thermal Conductivity: 0.040W/mK
Thermafleece SupaSoft offers a safe, sustainable and cost effective way to insulate your loft. It contains 100% recycled polyester and is made almost entirely from recycled plastic bottles. SupaSoft contains no harmful chemicals or binders and is completely safe to handle. It can be used to insulate between and over rafters or simply laid on to of existing insulation to improve overall insulation performance. Insulating your loft with Thermafleece SupaSoft would pay for itself in a just a few years. SupaSoft contains a lofting agent to maintain durability and is designed to last the life of the building in which it is installed.

CHARACTERISTICS
Created almost entirely from recycled plastic bottles,
Long lasting, easy to cut and install,
Safe to handle without the need for personal protective equipment,
Contribute to a healthier indoor environment,
Regulates moisture and absorbs harmful airborne substances in the home,
Can be used in conjunction with vapour permeable underlay,
Can be recycled or safely disposed of at the end of its life,
Can be used to reduce airborne sound reduction

APPLICATION
Roofs Lofts & Warm Roof,
Walls Timber Frame & Solid Wall,
Floors All levels
Acoustic - Walls, floors & roofs
INSTALLATION

Thermafleece SupaSoft flexible roll is harmless and can be installed without gloves or protective clothing. It is not irritating to the skin, eyes or respiratory tract. Its recommended that you wear a dust mask in enclosed spaces such as lofts. To retain the benefits of water vapour, absorption and release, Thermafleece SupaSoft rolls may be used in conjunction with a vapour permeable underlay. Protect the insulation from prolonged exposure to sunlight when unpacked and avoid wetting for extended periods, store under cover and clear of the ground.

Thermafleece SupaSoft roll can be cut using a straight edge and a knife, or simply torn apart. For more accurate cutting, tightly compress or clamp the insulation between two pieces of solid 15mm board. Overhang the fleece where you want to cut keeping the two board edges aligned. Saw cut the edge using a sharp, scalloped edged knife and keep the blade firm and square against both board edges throughout. Trim any fine remaining fibres with large scissors or shears.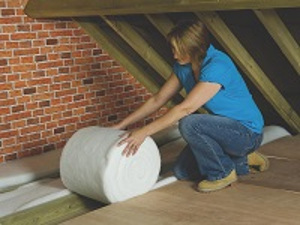 CERTIFICATION

Manufactured to ISO 9001 & 14001