10mm PVC Drip Bead (pack of 25).
Product Code:

A1-1244

Brand:

Wemico




Model and Size:

D10 - Free Delivery

Delivery Time:

1 - 2 days
---
Price:

InStock

NewCondition

GBP

81.37

£67.81

(£81.37 inc VAT)

---

2 or more £56.78

(£68.14 inc VAT)

3 or more £53.10

(£63.72 inc VAT)

4 or more £51.27

(£61.52 inc VAT)
other widths
10mm PVC Drip Bead (pack of 25).
10mm

PVC Drip Beads
are designed for various rendering applications and external wall insulation providing impact and rainwater protection, installed above the damp proof courses or window and door reveals. Their main function is to provide a drip for rainwater and prevent return of the water onto the surface below, however they can also be used as an architectural feature to provide shadow at each storey of the building. They provide an unobtrusive finish, regardless of whether they need to be painted over or are already purchased in the designated colour, thus nicely blending into the surrounding structure.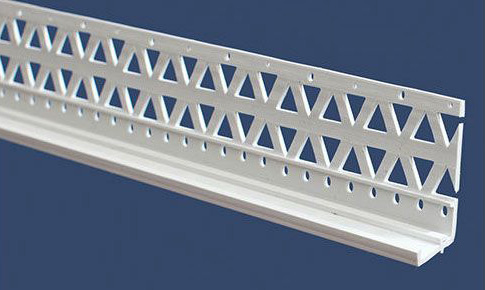 The main advantage of PVC drip beads over alternative stainless steel ones is the fact that they are much cheaper, much faster and easier to install and they will not corrode unlike galvanised steel, thus reducing impact damage and eliminating staining. All the mentioned affects the beads durability and life span, since they can last as long as the installed render which makes them a cost-efficient solution. The beads are also ecologically friendly since they are non-hazardous and do not release toxic substances into the atmosphere.
The beads can be stored vertically or flat if properly supported, but need to be kept away from direct sunlight or high temperatures. They are completely safe to handle, safer to cut than metal and can be easily shaped, with either in snips or a fine toothed hacksaw. Prior to installing the beads, make sure that all larger irregularities in the installation surface are properly dubbed out and allowed to set. If installed on blockwork, a continuous line of mortar adhesive is required, whereas a bed of render can be an alternative. When installing external wall insulation, non-corrosive mechanical fixings can be sufficient, whereas these are not necessary, but can be used. PVC drip beads are also compatible and can be used with EWI rendering systems which provide a highly efficient solution for external wall insulation. The system includes a number of carefully chosen components, whereas the high compatibility of the PVC beads will allow to be combined with different types of renders such as silicone, acrylic, silicate or mineral renders, providing a safe and clean look.
This product is listed in the following categories and systems (click to show).
This product is listed in the following categories and systems (click to hide).
Related Products