8mm RCM Cemboard - Cement Bonded Particle Board
8mm RCM Cemboard - Cement Bonded Particle Board
Thermal Conductivity: 0.260W/mK
Fire Rating (Reaction to Fire): B(Class 0)
8mm RCM Cemboard is a medium density high performance cement bonded particle building board used primarily as an external sheathing or acoustic building board on both metal and timber frame structures. This rigid Cemboard offers great strength and stability with the workability of wood. RCM Cemboard can be cut, drilled and nailed just like wood. Both front and back faces are smooth.
Not suitable for rendering.
Sheathing board metal or timber frame,
Acoustic flooring and roofing,
High impact partitioning,
Shuttering,
Any other applications where improved strength and density are required.

Maintenance-free and cost-effective;
Excellent acoustic properties,
Highly water repellent,
High impact resistance,
Higher fire performance than timber products,

Easy to cut, drill and install.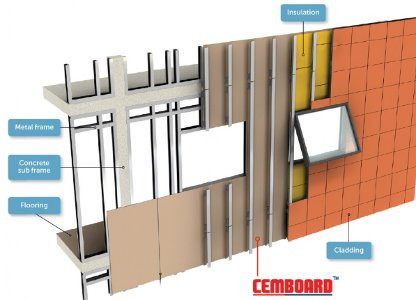 Use a poly crystalline diamond (PCD) blade with flat teeth configuration for cutting,
Use 4.8mm x 38mm wing tip self drilling fixing.

Cemboard is tested to BS EN634 Part 1 & 2,
Cemboard conforms to EN13986, EN89/106/EC & EN594.