Kingspan
Kingspan started as a small engineering and contracting business in 1965. In time Kingspan started to lead the way in creating energy efficient buildings and now its solutions are used by millions of people. Kingspan's passion for innovation and sustainability are proven in its products and solutions. In 1989, Kingscourt Construction Group is renamed Kingspan Group. The switch from traditional built-up systems to composite panels, making the Kingspan brand synonymous with panel and insulation. In 1996 Kingspan Insulation acquires Kooltherm Insulation Ltd, and begins manufacturing phenolic insulation boards under the Kingspan Kooltherm name.
Kingspan Insulation products became HCFC-free with zero ozone depletion potential, a year ahead of EU deadlines. Kingspan also produces flexible reflective insulation foil products, and adds its portfolio the KoolDuct pre-insulated Ducting System. Today, Kingspan is Europe's number one in high performance insulation - a world leader in sustainable, innovative building solutions. Kingspan enables the customers and builders to 'build better, meaning reducing build-times, increasing energy efficiency and reducing running costs, or providing a complete solution which ensures the whole building fabric is optimised. Kingspan products and services are proven to work, certified to all necessary standards, and you can use them with absolute confidence.


EWI Boards
Kingspan Kooltherm K5 External Wall Board is a premium performance rigid thermoset phenolic insulation core faced on both sides with a glass tissue facing auto-adhesively bonded to the insulation core during manufacture. Its thermal conductivity as low as 0.020 W/m.K. This Phenolic EWI board is resistant to the passage of water vapour, Class 0 fire rated and suitable for use behind traditional and lightweight polymer modified renders and dry cladding systems. Its used for brick and blockwork walls and also in cavity walls.
Rainscreen Boards

Kingspan Kooltherm K15 Rainscreen Board is a premium performance, fibre-free rigid thermoset phenolic insulation core faced on both sides with a low emissivity composite foil facing which is used as insulation for rainscreen façade systems. Its used for rainscreen cladding systems with non-proprietary external finish, or with terracotta clay tile external finish and as rainscreen cladding systems on steel frames.




Floor and Roof Styrozone insulation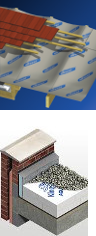 tech. support:
01544 388 601