Ceresit CT48 Silicone Paint (3.5 litres)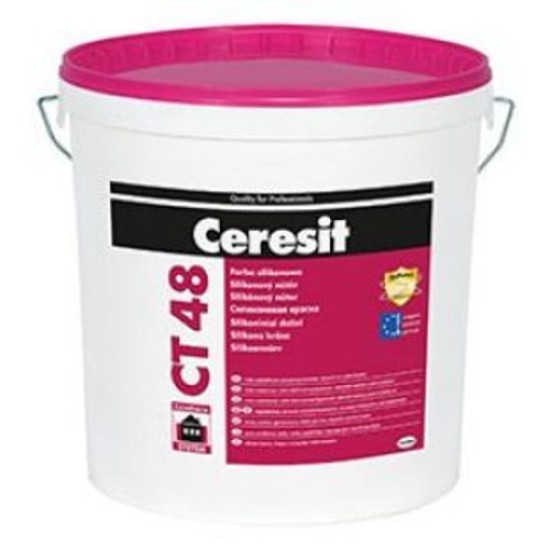 Guide Price
Ceresit CT48 Silicone Paint (3.5 litres)
Guide Price: £40.00
(£48.00 inc VAT)
Price per m2: £3.64/m2 (£4.36 inc VAT)
Product Code:

A1-4303

Delivery Time:

2 - 3 working days

Brand: Ceresit
Model and Size:

CT48 - 3.5l

Weight:

3.70kg
Our ratings on 05-12-2022:

4.8 out of 5 - Excellent


4.8 out of 5
Price: £89.00 (£106.80 inc VAT)
Ceresit CT48 Silicone Paint (3.5 litres)
Ceresit CT 48 Silicone Paint is used for protecting facades, concrete constructions, interiors. It can be applied on the mineral substrates such as concrete, cement plasters, lime-cement plasters and lime plasters that have never been painted before. This paint can be used for painting mineral plasters, acrylic plasters, silicate plasters, silicone plasters, on traditional substrates, on Ceresit ETICS (External Thermal Insulation Composite Systems) with the application of EPS-boards (Expanded Polystyrene boards) and mineral wool boards.

The structure of the coating ensures fast moisture evaporation from the substrate and at the same time creates an efficient protection against the substrate moisture and humidity. The binder used in the paint Ceresit CT 48 Silicone Paint causes pearl like effect of water after wetting the coat. It is highly recommended to use Ceresit CT 48 Silicone Paint in historical objects, on the renovation and aerated plasters as well as on all the surfaces where aesthetic qualities and duration of the coating is required. The facades covered with this paint can be washed with washing devices operating under low pressure. The exposure of the facade to the sun causes dangerous tensions, therefore dark colours should be used only on small areas, e.g. architectural details.
CHARACTERISTICS
Manufactured in more than 200 colours,
Excellent vapour permeability,
High resistance to dirt,
UV resistant,
Resistant to weather conditions,
Resistant to biological conditions,
Easy to use
APPLICATION
Before the paint application, the content of the container should be carefully stirred by means of the drill with a mixer for about 2 minutes. Usually it is sufficient to paint twice. Between the application of the subsequent layers at least 12 to 24 hour technological breaks should be maintained. Ceresit CT 48 Silicone paint should be applied by means of a brush, roller or a spraying device. It is important to apply the paint evenly. If there is such a need, it is possible to add not more than 5 % of water and stir carefully. Use only stainless containers and tools. Work on one surface should be carried on without any breaks using the paint of the same badge number printed on each packaging or the content of containers with different badge numbers should be mixed together. The area not to be painted, e.g. windows, doors should be protected (e.g. with foil). Bushes, other plants, etc. should be protected as well. Any stains should be immediately rinsed with water. Tools should be washed carefully with water directly after being used. Application should be performed in dry conditions with the ambient and substrate temperature ranging from +5 to +25 C and the humidity below 80 %.
PRECAUTIONS
The paint may cause decolouration impossible to be removed on glass, ceramic, wooden, metal and stone surfaces, therefore all the elements in contact with Ceresit CT 48 paint should be protected. Protective gloves and glasses should be worn while applying the paint to protect skin and eyes. Stains should be carefully rinsed with water. In case of contact with eyes, they should be rinsed with water and the general practitioner should be consulted. This product should be stored out of reach of children.
Ceresit EPS and Mineral Wool External Wall Insulation Systems are BBA approved systems.