JCW Acoustic Level Pod Cradle - JCW Acoustic Cradle and Batten System - box of 250
JCW Acoustic Level Pod Cradle - JCW Acoustic Cradle and Batten System - box of 250
Height: increments from 11mm
Impact Sound Insulation: 28dB
JCW Acoustic Level Pod Cradle is an integral part of the JCW Acoustic Cradle and Batten System that can be used on both timber and concrete subfloors. It also can be used separately. This system is ideal for levelling uneven subfloors and can accommodate levels varying from 55mm to in excess of 300mm. A unique levelling system for both external and internal sub-floors.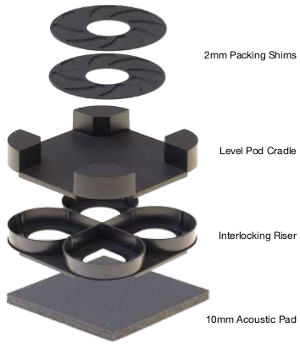 A pre-cut square of Acoustic Pad, 10mm thick, which is the base for the cradle system.

This Acoustic Pad is the only contact point the system has with the sub-floor, acoustically isolating the Level Pod Cradle System from the surrounding construction and providing resistance to the transmission of impact sound.

The Acoustic Level Pod Cradle, precision moulded in recycled polypropylene, fits neatly over the Acoustic Pad.

The Cradle is used to support timber battens up to 48mm wide which in turn support the flooring deck.

The acoustic integrity of the system reduces the transmission of impact and airborne sound through concrete floors by acoustically isolating the bearing surface from the structural floor.

The Level Pod Cradle accommodates 2mm Packing Shims for total flexibility in final height adjustment.

For steeper inclines and larger voids, an interlocking Level Pod Riser is used in combination with the Level Pod Cradle to the give additional height required.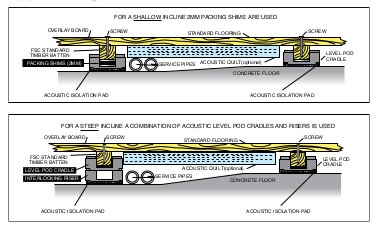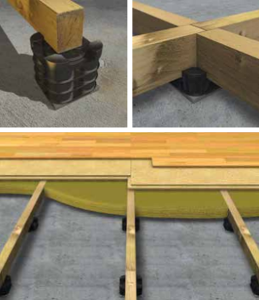 The Acoustic Rubber Pad, 10mm thick, is manufactured from recycled rubber tyres.

The Level Pod Cradle is manufactured from recyclable plastics. They provide height increments from 11mm, excluding timber batten, when used on their own. The cradle design also allows the system to accept four batten ends, a useful four way support method.

Adding the interlocking Riser provides 20mm height increments and these can be used in multiples to enable major level differences to be accommodated.

The Packing Shims, which are 2mm thick and fit snugly within the cradle, permit the ultimate flexibility in height adjustment.

The system is flexible enough to be able to accept batten heights from 21mm to 100mm.



JCW Acoustic Cradle and Batten System had been tested in Building Research Establishment Ltd, an UKAS accredited laboratory.
This product is listed in the following categories and systems (click to show).
This product is listed in the following categories and systems (click to hide).
Related Products