37.5mm EcoTherm EcoLiner PIR Insulated Plasterboard
37.5mm EcoTherm EcoLiner PIR Insulated Plasterboard
Thermal Conductivity: 0.022W/mK
37.5mm EcoTherm EcoLiner is a range of thermal laminate boards designed for both new build and refurbishment projects, applicable for internal wall insulation and drylining, but also pitched, cold and room-in-roof applications. It is consisted of paper backed PIR insulation core bonded to fine gypsum plasterboard with ivory face of the 12.5 tapered edge plasterboard which enables smooth, flat and seamless finish with either drywall jointing techniques or skim coat plaster. It is available in standard 2400x1200mm size but in different thicknesses suiting different applications. Its composure dictates the board's versatility and flexibility since it can be either mechanically fixed or installed via the dot and dab method to different surfaces including timber frame, cavity and solid walls. The boards will improve the thermal performance of the building structure and contribute to reducing harmful CO2 emissions.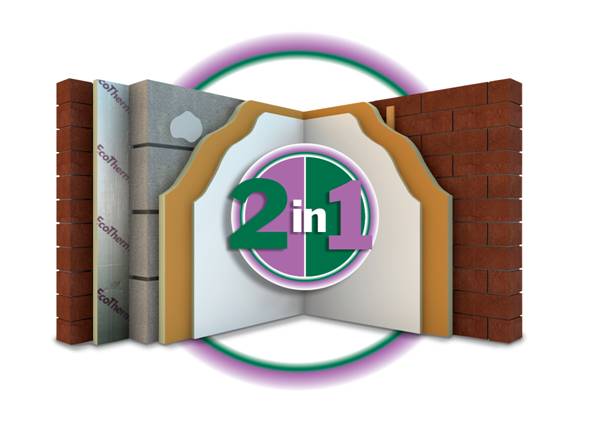 APPLICATION

EcoTherm EcoLiner PIR Insulated Plasterboards are applicable to internal walls (cavity, solid and timber frame), pitched and cold flat roofs and room in the roof applications.
CHARACTERISTICS
Flexible and versatile,

Applicable to wall and roof insulation, in both new build and refurbishment,

Suitable for both dot and dab installation and mechanical fixing,

Offers insulation and drylining in one product,

Very durable, since it will not rot, sag or decay,

Easy to install, maintenance free and cost-effective,

Eco-friendly, with zero ODB and GWP less than 5,

BBA approved and recommended by the Energy Saving Trust.
INSTALLATION
EcoLiner insulated plasterboards should be ideally stored inside, dry, flat and protected from mechanical damage and fire, and if stored outside, they need to be properly protected and covered. The boards are best cut with a fine tooth saw, making sure that the edges are properly trimmed so that the continuity in insulation is maintained, whereas if any power tools are used, appropriate eye and face protection should be worn.
The installation instructions depend on the method of installation, since the boards can either be mechanically fixed or installed using the dot and dab method. When mechanically fixing the boards to the wall, pre-treated 50 x 25mm timber battens are fixed at the maximum 600mm centres with the horizontal ones at above floor and ceiling level. The boards are then installed by installing 150mm centres drywall screws which should penetrate the timber battens for 25mm and at least 10mm from the edge. When screwing the heads in, make sure that these are not over driven.
If you have chosen dot and dab installation technique, then you will firstly have to seal the area around windows, sockets or any other opening with at least 50mm wide ribbon of adhesive, in order of providing a continuous insulation. Make sure to use adequate adhesives in accordance with the given manufacturer's instructions. The gypsum plasterboard adhesive should then be added to in three vertical rows at 300mm centres of the wall. Make sure the boards are plumb and properly positioned, leaving a 10mm gap at the base. Once the adhesive has set, at least twp nailable plugs per board should be fixed at mid-height, whereas the maximum height of the system is 3m.
CERTIFICATION

The product is in compliance with:
BBA Approved – PIR foam s produced according to BS EN 13165: 2008 and gypsum plasterboard complies with BS EN 520: 2004 and Manufacturing process based upon BS EN 13950: 2005;

Plasterboard component is Class 0 or 'low risk' in accordance with BS 476-6: 1989 and BS 476-7: 1997;

Recommended by the Energy Saving Trust.

EcoLiner Data Sheet

EcoTherm EcoLiner Installation Guide