126mm EcoTherm Eco-Deck - Insulated Flat Roof Decking
Thermal Conductivity: 0.022W/mK
Compressive Strength: 150kPa
Water vapour resistivity: 100MN.s/g.m
Surface Spread of Flame: Class 1
126mm EcoTherm Eco-Deck is a tough, structural, pre-insulated thermal composite board for flat roofs. It comprises a 120mm thick fibre free polyisocyanurate (PIR) insulation core faced with 6mm thick tough, exterior grade plywood and is ready to fix and finish using basic tools and traditional roofing techniques. This PIR product is chemically inert and safe to use. 16-20 Suretwist fixings are needed per 1200x2400mm board depending on joist spacing for mechanical fixing. The fibre free insulation core achieves BS476-7: 1997 Class 1 rating for surface spread of flame.

Insulate and deck in one application,

Helps to reduce CO2 emissions,

Meets the thermal requirements of the Building Regulations/Standards with minimal thickness,

Plywood facing is compatible with most BUR membranes,

Large format boards cover areas quickly,

Cut-and-cover operations can be carried out faster reducing the open time,

Rot proof and durable and will remain effective as an insulation system as long as that of the waterproof covering,

Resists attack from alkalis, dilute acids, mineral oil and petrol,

The low emissivity of the reflective foil would cut radiation heat transfer across an adjoining air-space,

High water vapour resistance,

Resistance to water vapour transmission

126mm EcoTherm Eco-Deck

is suitable for use in new build or upgrading the thermal performance of existing roofs.
It can be used in combination with the following waterproofing systems:
Single ply mechanically fixed,

Single ply adhered,

Mastic Asphalt,

Roll and Pour Felt,

Torch on felt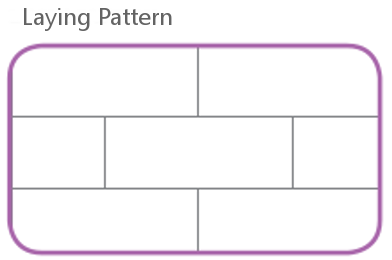 Do not drop boards,

Use a fine saw to cut,

Wear eye protection,

Damaged boards should not be used,

At no time should the insulation boards be left exposed to rain. Whenever work is interrupted, a night joint must be made to prevent water penetration.

The boards must be kept dry at all times and must be protected from prolonged exposure to sunlight.



The Eco-Deck should be laid so that each long edge coincides with the centre of a joist.

Noggins should be used to support all edges of the board which are not fully supported by the joists and at points where the board is cut to fit openings etc.

The board should be fixed to joists set at a maximum of 600mm centres, with the timber side uppermost and the board laid with the long edge running along the joist.

Where an overall vapour control layer is required, this should be achieved by applying a continuous bead of mastic (i.e. Neutral curing silicone sealant) to the upper surface of all supporting timber.

Eco-Deck should be laid onto the mastic and fixed with round-headed screws, spaced at 300mm centres down the line of each joist and / or noggin.

The screws should be long enough to allow a minimum 35mm penetration of the supporting timber and be positioned not less than 10mm from the edge of the board or 50mm from the corner.

Where two boards are fixed to the same joist or noggin, the fixing centres should be staggered.

The Eco-Deck should be lightly butted and all edges must be supported by a minimum of 20mm bearing onto the face of the supporting timber.



126mm EcoTherm Eco-Deck

is m

anufactured in accordance with,
ISO 9001 Quality Management System (LPCB certificate 388 7QMS),

ISO 14001 Environmental Management System (LPCB certificate - 388 7EMS),

BS OHSAS 18001 Occupational Health and Safety Management System (LPCB certificate 388 7HS).

Eco-Deck is covered by BBA Agrment Certificate No 07/4487