25mm Eurothane GP PIR Insulation Board Recticel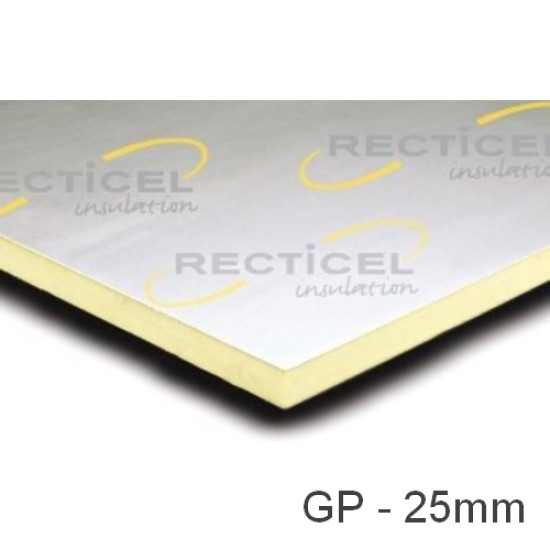 25mm Eurothane GP PIR Insulation Board Recticel
Price: £19.98
(£23.98 inc VAT)
Price per m2: £6.94/m2 (£8.33 inc VAT)
10 or more £19.29 (£23.15 inc VAT)
20 or more £19.17 (£23.00 inc VAT)
30 or more £19.17 (£23.00 inc VAT)
Product Code:

A1-281

Delivery Time:

1-3 working days

Brand: Recticel
(tech. support: 01782590470)
Model and Size:

GP1200x2400 - 2.88m2

Weight:

2.16kg
Our ratings on 05-12-2022:

4.8 out of 5 - Excellent


4.8 out of 5
25mm Eurothane GP PIR Insulation Board Recticel
Thermal Conductivity: 0.022W/mK
Compressive Strength: 140kPa
Surface Spread of Flame: Class 1
25mm Eurothane GP comprising a rigid polyisocyanurate (PIR) core faced on both sides with a gas tight multilayer composite aluminium foil facing is the ideal choice for pitched roof, floor or framed wall applications. With a low thermal conductivity value (0.022 W/mK) providing an excellent thermal performance, this high quality product will offer energy saving benefits to the entire building chain. Eurothane GP will not degrade or deteriorate due to moisture and therefore maintains its thermal performance. Lightweight, easy to cut, handle and install, the board is available in a variety of thickness to suit your precise specification and ensure you meet and exceed thermal regulations.

Low thermal conductivity: 0.022 W/mK



Low emissivity multi-layer coated aluminium foil
Compressive strength: exceeds 140kPa at yield
Rot-proof, durable and maintenance free.
Lightweight yet tough and resilient. It is easily cut using a knife or fine toothed saw
Meets the appropriate Building Regulation standard with any form of pitched roof construction.
Meets the Building Regulation 0.2 U-value requirement with a single layer of 150mm of Eurothane GP, or two layers of 90mm in between rafters.
Avoids condensation within the roof structure maintaining the same temperature as the inside of the building.
No need for a vapour control layer.
The roof void becomes part of the habitable accommodation.
Meets the new Building Regulation requirement in new housing with only 60mm of Eurothane GP.
Ensure optimum efficiency in heated floor system.
Meets the appropriate Building Regulation standard with any form of timber or metal framed wall construction.
Can be used with both timber and metal framed systems, either between the studs or as an insulated sheathing.
Just

90mm of Eurothane GP u

sed between studs in timber frame construction meets the new Building Regulation requirements.
Used as an insulated sheathing only 60mm of Eurothane GP is required.

Reduces the risk of condensation. High resistance to the passage of moisture vapour.



Manufactured to ISO 9001 Quality Systems.
Certified to ISO 14001:200
CE Mark in compliance with the harmonised European Standard BS EN 1316
Manufactured to BS EN 13165

BBA certificate Eurothane GP, pitched roof insulation,

BBA certificate Eurothane GP, timber frame insulation

BBA certificate Eurothane GP, underfloor insulation