30mm Recticel Powerdeck U PIR Insulation Board for Flat Roof Hot Applied Systems - pack of 16
Product Code:

A1-2601

Brand:

Recticel


(tech. support: 01782 590 470)

Model and Size:

600x1200 - 11.52m2

Coverage:

11.52m2

Delivery Time:

3 - 5 days
---
Price:

InStock

NewCondition

GBP

145.72

£121.43

(£145.72 inc VAT)

Price per m2: £10.54/m2 (£12.65/m2 inc VAT)

---

5 or more £118.27

(£141.92 inc VAT)

10 or more £116.17

(£139.40 inc VAT)

15 or more £115.11

(£138.13 inc VAT)
other thicknesses
30mm Recticel Powerdeck U PIR Insulation Board for Flat Roof Hot Applied Systems - pack of 16
Thermal Conductivity: 0.026W/mK
Compressive Strength: 150kPa
30mm Recticel Powerdeck U is a high performance, rigid PIR board for use in warm flat roofs under torch-on with bituminous waterproofing systems for new build and refurbishment projects and in any bitumen compatible single-ply membrane system. It is core faced on both sides with a bituminous glass fleece. Recticel Powerdeck U high compressive strength and excellent dimensional stability ensures optimum performance and allows for the flattest finish. Its installation is quicker, easier and more cost effective. It is also available in tapered formats to assist roof drainage. It is for use in conjunction with a vapour control layer and adhesively bonded or mechanically fixed roof waterproofing membranes, in new and existing domestic and non-domestic buildings.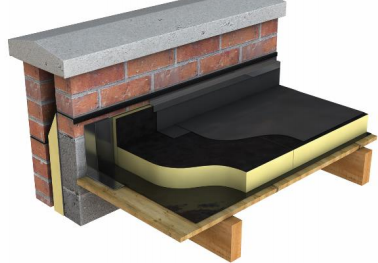 CHARACTERISTICS
Excellent thermal performance,
High Copression strength 150kPa,
Will not degrade or deteriorate if exposed to moisture,
Manufactured using a blowing agent with zero ODP (Ozone Depletion Potential) and low GWP (Global Warming Potential),

Rot-proof, durable and maintenance free,
Lightweight yet tough and resilient,
Easily cut using a knife or fine toothed saw.
APPLICATION
Torch-on bituminous waterproofing systems,
Mastic asphalt,
Built-up felt,
Bitumen compatible single-ply waterproofing systems.

CERTIFICATION

Manufactured in accordance with an ISO 9001 quality management system and an ISO 14001 environmental management system.

Has a GWP of below 5, zero ODP
Achieves a CE marking compliance to BS EN 13165.
This product is listed in the following categories and systems (click to show).
This product is listed in the following categories and systems (click to hide).