35mm Celotex TB4000 PIR Insulation Board | TB4035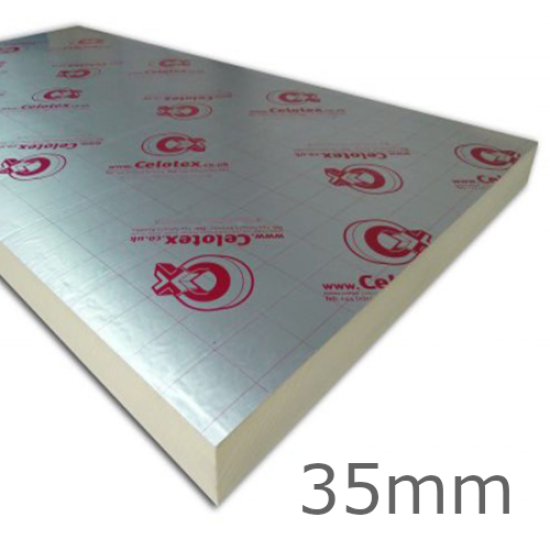 35mm Celotex TB4000 PIR Insulation Board | TB4035
Guide Price: £39.18
(£47.02 inc VAT)
Price per m2: £13.60/m2 (£16.33 inc VAT)
5 or more £38.87 (£46.64 inc VAT)
10 or more £38.52 (£46.22 inc VAT)
20 or more £38.18 (£45.82 inc VAT)
Product Code:

A1-114

Delivery Time:

1-3 working days

Brand: Celotex
(tech. support: 01473820850)
Model and Size:

1200x2400mm - 2.88m2

Weight:

4.23kg
Our ratings on 31-05-2023:

4.4 out of 5 - Excellent


4.7 out of 5
35mm Celotex TB4000 PIR Insulation Board - TB4035
Thermal Conductivity: 0.023W/mK
Celotex TB4035 is targeted at cut-to-fit applications between rafters or joists and enables users to achieve lower U-values with a single layer of insulation than has previously been possible. It is also appropriate for use in floors and walls. With low emissivity foil facings, TB4035 is manufactured from rigid polyisocyanurate (PIR) using a blend of blowing agents that have zero ozone depletion potential (zero ODP) and low global warming potential (GWP).
Note: Would also be known as TB3035 from January 2018.


Pitched Roofs

Flat Roofs

Solid Masonry Walls

Timber Framed & Steel Framed Systems

Floors
Specifically designed to eliminate thermal bridges,

The thinnest PIR insulation,

Standard board size of 1200mm x 2400mm,

Easy to cut and shape,




Low emissivity foil facings giving improved thermal insulation,

High performance within cavity air spaces,

Long-term energy savings for buildings.
CE marking compliance to BS EN 13165.




Manufactured in accordance with quality management system ISO 9001 and environmental management system ISO 14001.

Achieves an A+ rating when compared to the BRE Green Guide 2008.