50mm JCW Acoustic Isolating Strip.
50mm JCW Acoustic Isolating Strip
Type of material: Recycled Rubber
50mm JCW Acoustic Isolating Strip is used for preventing sound transfer by isolating partitioning or party walls from ceiling and floorboards and also from joists that the floor is attached to. It can be used in all forms of construction where there is any point of contact. The strip is manufactured from bonded recycled rubber. The acoustic isolating strip is especially designed to reduce impact sound transmission in walls and floors, deriving from footsteps, light switches and door closing, without an adverse affect to the wall structure stability.

New build
Refurbishment/change of use
Partition and party walls
Floor joists
Domestic upgrade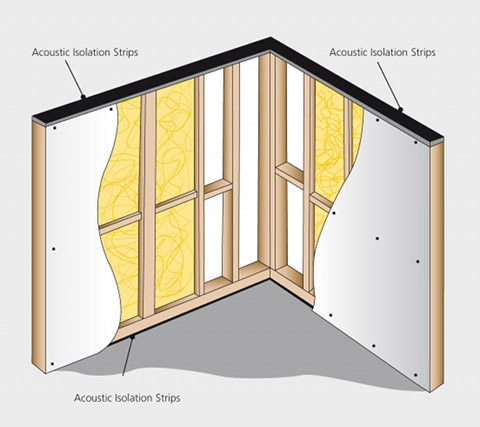 INSTALLATION

Walls
These trips are used to isolate a timber stud wall or metal framed wall from the structure by sandwiching the strip between the floor, wall and the ceiling and any new wall construction. A minimum number of mechanical fixings should be used to fix the strip safely to the wall (as seen in above photo). Strips should be placed around the wall perimeter to isolate the floor deck from the wall edges and the skirting boards from the decking.
Joists
These strips are placed on top of the joists to isolate the joist from the floor deck. Cut pieces from the roll and fix them to the top of the joist.

This strip has been tested and proven that it reduces significantly noise transmission through walls, floors and ceilings.