Phenolic External Boards
Phenolic boards are the most effective type of rigid external wall insulation (EWI) boards currently available. Kingspan Kooltherm K5 is a high-quality wall board ideally designed for external insulation. This board features a fiber-free rigid thermoset insulation core, sandwiched between two layers of tissue based facing bonded to the insulation core. It features great application in concrete, masonry, block, steel-framed and timber-framed external walls.
This lightweight, low thermal conductivity phenolic insulation enables high levels of thermal performance to be achieved utilising thinner boards of insulation. It is an ideal solution for buildings that cannot increase their footprint significantly due to encroachment onto pavements, passageways, proximity to an adjacent property, or are located within conservation areas. The reflective foil can also act as a radiant barrier that adds to insulating values. The low emissivity facings improve the thermal performance when positioned next to an unventilated space.
The high performance Kingspan Kooltherm K5 external wall board is readily available in thickness's 20mm, 50mm, 60mm and 70mm and also can be manufactured to order to following thickness's 30mm, 40mm, 80mm, 90mm and 100mm. This board is a purpose designed high performance rigid phenolic insulation for fixing to masonry or timber frame walls behind either traditional or lightweight polymer modified render systems. Kingspan Kooltherm K5 board is suitable for external wall insulated render systems.
It has a typical density of 40 kg/m3 with a compressive strength that exceeds 120 kPa. If correctly installed, Kingspan K5 EWI board can have an indefinite life, depending solely on the structure of the building. The insulation core of Kingspan Kooltherm K5 board is resistant to short–term contact with petrol and with most dilute acids, alkalis and mineral oils. However, any spills should be cleaned off fully before the boards are installed.
Developed specifically for use in external walls, Kingspan Kooltherm K5 is the highest performance insulation board for insulated render available in the market.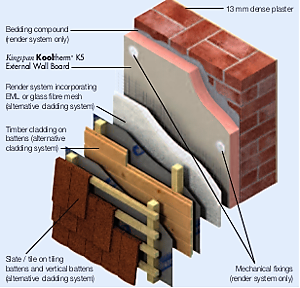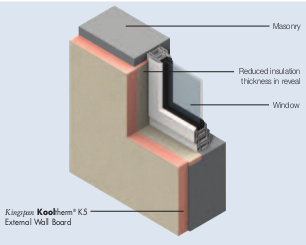 Typical usage of Kingspan K5 EWI boards
Characteristics

Has a high closed cell content (>95%) and fine cell structure,

Thermal conductivity as low as 0.021 W/m.K,

Class 0 - low risk fire rating,

Negligible smoke obscuration,

Resistant to the passage of water vapour,

Easy to handle and install,

Ideal for new build and refurbishment,

Suitable for use behind traditional and lightweight polymer modified renders,

Upgrades the appearance of existing buildings,

Non–deleterious material,

CFC/HCFC–free with zero Ozone Depletion Potential (ODP)

Resistant to fungus and mould growth and will not sustain vermin,

Meets the requirements of building regulations,




Recyclable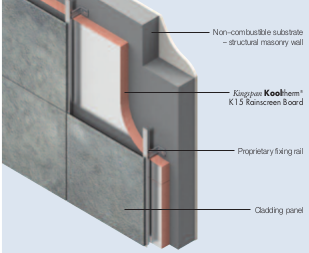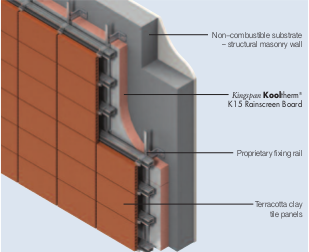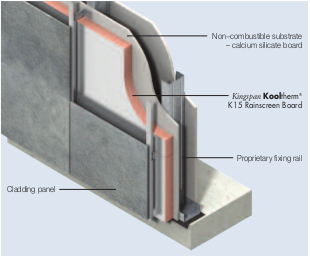 Typical usage of Kingspan K15 Rainscreen boards
CHOOSE MANUFACTURERS or scroll down to see products
Showing 1 to 29 of 29 (1 Pages)