50mm Earthwool Flexible Insulation Slab Knauf (pack of 12)
50mm Earthwool Flexible Insulation Slab Knauf (pack of 12)
Thermal Conductivity: 0.037W/mK
Fire Rating (Reaction to Fire): A1(Non-combustible)
50mm Earthwool Flexible is a non-combustible, inorganic rock mineral wool slab, used for thermal and acoustic insulation and specifically designed for installation by friction fitting. Earthwool Flexible is odourless, non-hygroscopic, rot proof, does not sustain vermin and will not encourage the growth of fungi, mould or bacteria.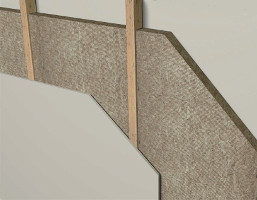 Timber and metal stud partitions,

Timber frame walls,

Suspended timber floors



Easy to handle, cut to size and install,

Multiple application solution,




Supplied in weatherproof Supakube packaging,

Friction fits between rafters and joists,


Excellent acoustic and thermal and performance,

Moisture tolerant,

Free from CFCs, HCFCs,

Zero ozone depletion potential (ODP),

Non-wicking.

Defined as mineral wool in BS 3533.

Manufactured in accordance with BSI Quality Assurance Standard BS EN ISO 9001: 2000

Fire rated as Class 1 Surface Spread of Flame to BS 476: Part 7 1997 and Class O to the Building Regulations


Conforms to BS 2972: 1989: Section 12.