60mm Rockwool Hardrock Multi-Fix (Dual Density ) Fleece Faced Board (pallet of 20)
60mm Rockwool Hardrock Multi-Fix (Dual Density ) Fleece Faced Board (pallet of 20)
Thermal Conductivity: 0.039W/mK
Fire Rating (Reaction to Fire): A1(Non-combustible)
60mm Rockwool Hardrock Multi-Fix Dual Density Fleece Faced Boards are manufactured from renewable volcanic stone which produces a non-combustible roofing insulation board. A uniquely versatile solution suitable for all roof covering types - torch, pour and roll, single ply, EPDM, liquid applied and green roofs - new-build and refurbishment. Each board has a robust, high density top surface.

Roofing constructions incorporating Hardrock Multi-Fix (DD) roofing boards have achieved the highest possible classification to LPS 1181:Part 1 (i.e. EXT-A). This was accomplished by successfully undertaking and passing the Part 1 test for Reaction to Fire and the more onerous LPS 1208 Resistance to Fire test. HARDROCK Multi-Fix roofing boards are the only insulation products to have achieved this classification, in respect of built-up warm flat roofing constructions.
No smoke hazard, and will not contribute to fire growth in any stages of a fire (including the fully developed stage of a fire),
Non-combustible in accordance with UK building regulations,
LPCB approved to highest classification, LPS1181: Part 1 EXT A rated constructions,
Excellent acoustic reduction, absorption and impact (rain noise) performance,
Meet all BB93 (Education) and HTM08-01 (Healthcare) acoustic requirements,
Provide opportunity for additional BREEAM points,
Dimensionally stable,
Consistent thermal performance with no blowing agents.
Zero ODP and GWP, HARDROCK Multi-Fix (DD) can be recycled and reprocessed reducing landfill and cost.
Rockwool Hardrock Multi-Fix Dual Density
roofing boards are fully compatible for use with the following roofing systems:
Fully bonded, partially bonded, mechanically fastened single ply membrane systems and EPDM membrane systems,
Torch applied, bitumen based and mastic asphalt built up systems,
Liquid applied systems,
Green roof system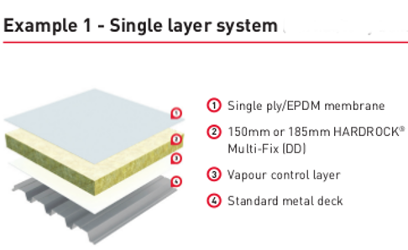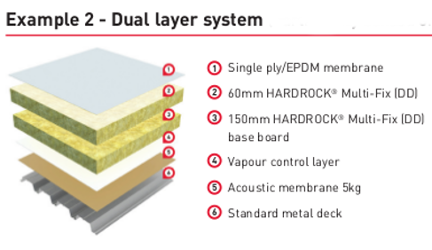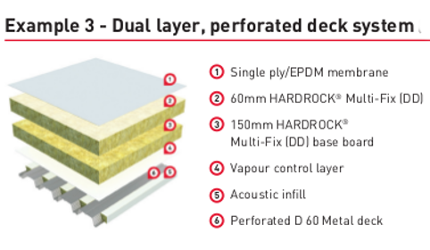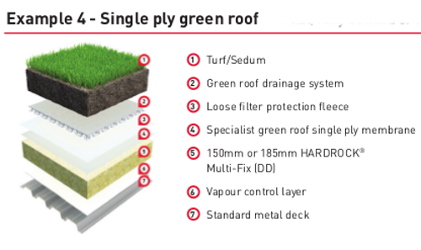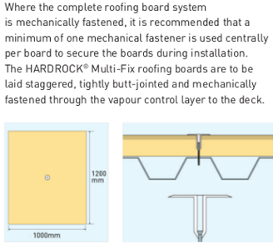 CERTIFICATION
Rockwool Hardrock Multi-Fix (DD) roofing boards comply with the requirements of BS EN 13162, Thermal insulation products for buildings, factory made mineral wool (MW) products specification.
Hardrock Multi-Fix (DD) roofing boards have been assessed by the British Board of Agrement to UEAtc technical guidelines MOAT No 50: 1992 Thermal insulation systems intended for supporting waterproof coverings on flat and sloping roofs.
Hardrock Multi-Fix (DD) boards have been tested for the effects of mechanical stress, and has achieved Classification C Roof accessible to pedestrian traffic and may be used where frequent maintenance of equipment is envisaged.

Hardrock Multi-fix Solutions Guide
This product is listed in the following categories and systems (click to show).
This product is listed in the following categories and systems (click to hide).