Glass Wool Insulation
Insulation must be kept dry at all times. Like other insulation, glass wool relies on the microscopic air gaps inside as the insulators. If the insulation gets wet, the air gaps would get filled with water, and you lose the thermal insulation. Getting moisture would bring in potentially destructive results--insulation would then be susceptible to mould. Should any part of a glass wool become wet, it should be cut off, discarded and never used.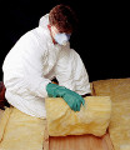 Glass wool insulation remains hugely popular, and when properly installed in the roof, floor or walls of a building, it can be expected last as long as the building itself. Additionally, glass wool insulation is resistant to vermin, and are non-combustible.
Glass wool insulation can be somewhat itchy to work with, but it is not caused by chemicals, but simply by the tiny glass-fibre ends that might get pushed into the skin. So, its recommended to wear a long sleeve shirt and gloves when handling glass wool.

Loft insulation
Cavity wall insulation
Within partitions and floors
Suitable for temperatures up to 230C,
Typically includes 30 60% of post consumer waste,
A formaldehyde-free binder,
High thermal resistance,
Chemically inert,
Non-combustible,
Extremely low spread of flame,
Non emission of dense smoke and toxic gases, on depletion of oxygen,
Excellent acoustic insulation values,
Odourless,
Does not encourage growth of fungi and vermin,
Inherently non-combustible and resistant to rot,
Glass wool is stable under varying conditions of temperature and humidity.
Excellent tear strength.
Not prone to sagging or settling.
Rigid slabs have inherently high compression resistance.

Reusable and recyclable
R-value Comparison Chart for Glass Wool Insulation products available at Insulation Shop

Legend
1* Knauf Earthwool Rafter Roll, Isover Hi-Cav CWS 32, Isover Timber Frame Batt 32, URSA 32 Cavity Insulation Batt, DriTherm 32 Ultimate Cavity Slab

2* Isover Timber Frame Batt 35, URSA Acoustic Insulation Roll, URSA 35 Cavity Insulation Batt

3* Isover Acoustic Partition Roll, Isover RD Party Wall Roll, Isover Acoustic Multi-Purpose Slab, Isover Acoustic High Performance Slab, Isover Cavity Wall Slab, Superglass Superwall 36 Cavity Wall Batt

4* Isover Timber Frame Batt 40

5* Isover Spacesaver Loft Roll, Isover Timber Frame Batt 43

6* Superglass Multi Acoustic Insulation Roll, Superglass Multi Roll 44 Loft Insulation, URSA 10 Loft Roll, URSA 10 Diverso Loft Roll, Earthwool Loft Roll 44

Precautions
Glass wool would irritate the eyes, skin, and the respiratory system. You might feel itching skin, eyes, breathing difficulty, sore throat, hoarseness and cough, so you must wear safety clothing and safety goggles.

CHOOSE MANUFACTURERS or scroll down to see products
Showing 1 to 26 of 26 (1 Pages)