50mm Isover Cavity Wall Slabs (pack of 20)
50mm Isover Cavity Wall Slabs (pack of 20)
Thermal Conductivity: 0.036W/mK
Fire Rating (Reaction to Fire): A1(Non-combustible)
50mm ISOVER Cavity Wall Slab (CWS) is a non-combustible, silicone impregnated glass mineral wool thermal insulation in masonry cavity walls in full-fill applications. It is designed to be installed during construction in the cavity between two masonry leaves in external walls. Meets Part L Building Regulations (England and Wales).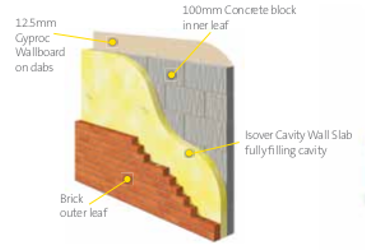 External masonry cavity walls
BBA Certied for all exposure zones,


Long product life will not age,

Long installed life will tolerate structural, movement and settlement

Completely re safe Euroclass A1 re rating,

Does not hinder the natural drying out process of the building,

Robust brous faces will follow wall contours leaving no airspaces and edges of adjacent slabs will knit, leaving no penetrating air gaps,

Water resistant,

Excellent acoustic properties,

Quick and easy on-site installation,

Can be used in multi-storey construction,

Zero ODP (Ozone Depletion Potential), Zero GWP (Global Warming Potential),

Manufactured from up to 86% recycled glass.
Euroclass A1 fire rating when classified with BS EN 13501-1;
British Standards Institution: BS EN ISO 9001:2000. Manufactured under BSI Quality Management. Certificate Number FM 01032.
British Board of Agreement: Certificate: 90/2465.
British Standards Institution: ISO 14001:2004