Rock Wool External Wall Insulation Slabs
Superior Fire Resistance

- Put simply, rock won't burn.

Excellent Acoustics

- Unique properties help to reduce the effect of noise.

Unrivalled Durability

- Won't shrink, won't move and won't crumble. It is so durable it will maintain its performance for the lifetime of the building.

Sustainable Materials

- Made from a renewable and plentiful natural resource, Rock Wool saves fuel costs and energy in use. And it's fully recyclable, too.
Using external wall insulation is one of the best ways to protect a building and its inhabitants from the environment. Exterior wall insulation protects the building and its occupants from the cold and heat as well as noise and fire. Rock Wool External Slabs are made from stone and the insulation is both water repellent and vapour permeable helping to protect the building from moisture damage. They are also dimensionally stable so it will hold its shape and position over time providing durability, maintaining performance throughout the life of the building. They are non-combustible, therefore any exterior wall insulated with Rock Wool insulation will help to prevent the spread of fire, protecting the building, the occupants and its contents.

Rock Wool is water repellent, and because of the open fibre structure is breathable. This means that moist air can circulate freely out to the open. Ceresit CT137 mineral render would enhance the breathability external wall.
Rock Wool external slabs are used in applications,
Rendered facades,

Ventilated facades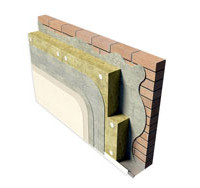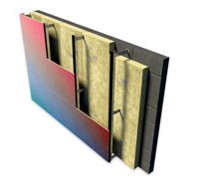 CHOOSE MANUFACTURERS or scroll down to see products