Strips and Bands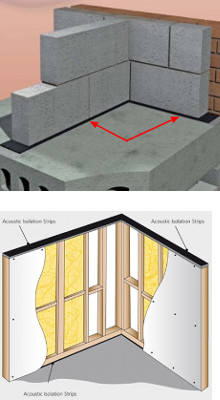 Impact and airborne soundproofing

Impact noise and airborne noise would propagate through the structure of the building to the rooms nearest to the noise source. An efficient solution to block this transmission of vibration noise is to separate any structural wall with anti-vibration elements. Installing Isocheck Re-Mat Acoustic Isolation Strips beneath masonry walls, separating concrete floors from the walls would reduce structure borne noise. These strips are made from a rubber crumb, providing minimal creep and able to withstand significant loads with no risk of collapsing when exposed to high load points. As they are not not prone to deformation and ageing, they offer the soundproofing solution for the life of the structure.
JCW Acoustic Isolating Strips are used for preventing sound transfer by isolating partitioning, party walls or ceiling and floorboards from joists that they are attached to.
Regupol Acoustic Isolating Strips are designed to sit beneath all types of partition walls and are a very simple and effective way to reduce structure borne noise. They offer long term performance without collapse or 'bottoming' out under high point loads and are resistant to ageing and deformation.
Isocheck Acoustic Isolation Strip
is made from a cross linked Isopoli foam and has an adhesive backing, and is used to enhance acoustic insulation and impact sound transmission in masonry, steel and timber partition and separating walls. It is especially designed to reduce impact sound transmission in walls and floors, deriving from footsteps, light switches and door closing.
Installation
The floor must be flat, dry and free from any dust or dirt.
The strips can be installed either adhesive bonded to the base floor or laid loose.
The width of the strip is determined depending on the width of the wall and the finishes.
Excessive material, if any, can be trimmed and removed by using a builders knife.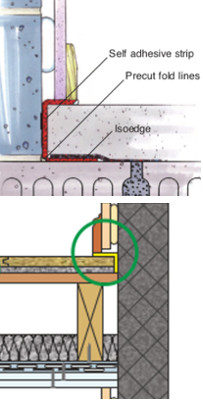 Flanking soundproofing
The acoustic efficiency of the floor will be adversely affected should acoustic bridging between the floating layer and the surrounding structures occur (known as flanking transmission). Flanking transmission is where the sound passes around, over the top or under the primary partition separating two spaces.
Flanking sound transmission can be especially bothersome in multi-family residential buildings. All floor finishes must be isolated from the surrounding walls (including plaster finish and skirting boards), door linings, services and other structural elements. Failure to install the correct acoustic flanking/edge strip, or completely dismissing it during installation can result in failing the acoustic sound test.
Acoustic isolation strips such as JCW Perimeter Edging Strip, Yelofon Flanking Strip, Isorubber IsoEdge Acoustic Perimeter Insulation Strip, Karma Acoustic Perimeter Strip, Isocheck Universal Acoustic Angled Flanking Band are fitted between the flooring and the wall, before fixing skirting and other finishes.
Precautions
Don't secure the floating floor to the sub-deck, floor joists or structural floor.
Don't sit the skirting board or allow the plaster or plasterboard to make direct contact with the floor.
Ensure the acoustic floor is free floating and not fixed to the sub-structure.

CHOOSE MANUFACTURERS or scroll down to see products
Showing 1 to 19 of 19 (1 Pages)