Extruded Polystyrene Insulation XPS
XPS can be used in asphalt built-up roofing systems, however provisions must be made to protect the insulation from heat and solvent-based products. XPS is more common for below-grade waterproofing, and used mainly as below DPC level external wall insulation. It is also utilized for insulating external building walls, where XPS insulation is placed over a barrier membrane, with the external render, siding or cladding system installed over the insulation layer.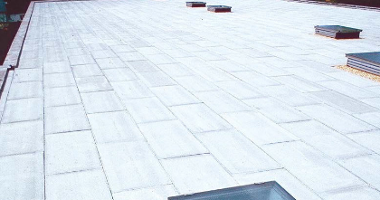 XPS is manufactured through a continuous extrusion process. When the molten material is extruded through a die where it expands into a uniform closed-cell rigid foam insulation board with no voids. This resistance to water absorption stabilises the R-value in the long range. XPS maintains its closed void cell structure and maintains its resistance to water absorption even under freeze-thaw cycling. When absorbed water freezes and expands, the product breaks and open further resulting in increased water absorption and lost structural integrity. Here the XPS insulation's closed void cell structure helps by resisting any absorption of water. XPS broads are therefore used in below-grade, under pavement, car park applications.
Recyclable,

Wont support mould or mildew growth,

Long-term, stable R-value,

Can be placed below grade,

Can be utilized for inverted assemblies,

XPS insulation is more moisture-resistant than EPS insulation,

XPS insulation holds R-value better than EPS insulation at lower mean temperatures when water is present.

Exposure to sun will deteriorate the product,

Solvents/solvent-based materials cause irreversible damage,

Temperatures above 120C will melt polystyrene,

Incompatible with certain thermoplastics--are known to draw plasticizers out of thermoplastic membranes, causing permanent degradation,

Polystyrene is flammable, requiring proper placement in any assembly.
The purpose of building insulation is to reduce heating and cooling energy consumption, contribute to durability, and provide comfort for the occupants. However, the exposure to moisture severely affects a materials thermal performance. XPS insulation has unique properties making it the suitable choice for applications, where the resistance to water absorption is highly needed. Water is an excellent conductor of heat, and if the insulation absorbs moisture, it can degrade that materials R-value, negatively affecting energy savings and the comfort of those inside the building. So, the high resistance water absorption of the close void cell structure of XPS insulation is highly appreciated.
The protected roof consists of the waterproofing membrane installed on the roof deck, the insulation and ballast installed atop the insulation. This system protects the roof or deck from environmental exposures and physical damage. For such applications, the moisture-resistive properties of XPS often make it a suitable choice. It is also used in vegetative roofs and decks. The thermal mass effect provided by the vegetative roof saves energy and provides reduced heating and cooling costs. It also extends useful life of the roof due to reduced exposure to harmful ultraviolet light and weather. A vegetative roof reduces heat flow into a building, lowering air-conditioning costs. Long-term exposure to moisture makes it imperative the insulation retains its R-value, possesses adequate compressive strength, and provides resistance to water absorption. XPS is almost exclusively used to insulate such vegetative roofs.
The continuous insulation around the exterior is the most efficient way to insulate a building foundation. As precipitation eventually finds its way to the foundation, the moisture resistance is very important. Insulation used in the foundations must also withstand significant abuse during the backfilling. Foundation insulation must have superior durability and be able to withstand the soils lateral compressive forces. Construction experience has shown that XPS insulation to provide superior performance in the exterior foundation application.

CHOOSE MANUFACTURERS or scroll down to see products