Ceresit CT174 Silicate-Silicone Render 1.5mm grain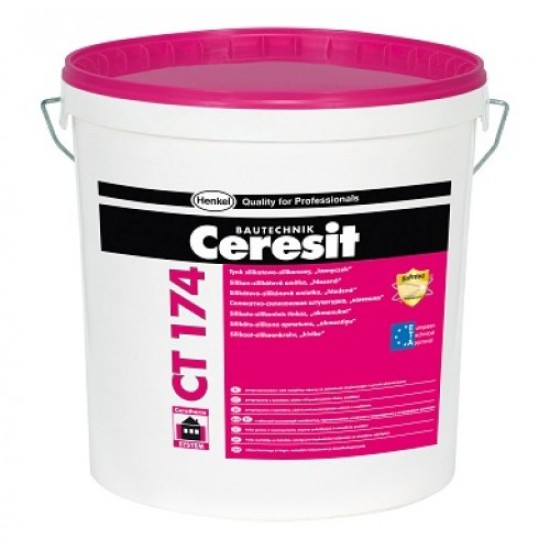 Ceresit CT174 Silicate-Silicone Render 1.5mm grain
Price: £58.00
(£69.60 inc VAT)
Price per m2: £6.44/m2 (£7.73 inc VAT)
5 or more £56.84 (£68.21 inc VAT)
10 or more £56.70 (£68.04 inc VAT)
15 or more £55.08 (£66.10 inc VAT)
Product Code:

A1-627

Delivery Time:

5 - 7 days

Brand: Ceresit
Model and Size:

CT174 - 25kg

Weight:

25.00kg
Our ratings on 05-12-2022:

4.8 out of 5 - Excellent


4.8 out of 5
Guide Price: £58.00 (£69.60 inc VAT)
Ceresit CT174 Silicate-Silicone Render 1.5mm grain
1.5mm grain Ceresit CT174 Silicate-Silicone Render is a decorative thin-layer render for indoor and outdoor applications. Ceresit CT 174 combines good points of silicate render and silicone render. It is vapour permeable, of low absorbability and dirt resistant. It is used for making thin-layer renders on concrete substrates, traditional renders, gypsum substrates and chipboards, gypsum cardboards, etc. We recommend the application of the render CT174 as facade render within Ceresit ETICS (External Thermal Insulation Composite Systems) with the application of EPSboards (Expanded Polystyrene boards) and mineral wool boards. In case of intensive dark colours, the material application should be limited to small areas, e.g. architectural details. This product protects against biological corrosion (fungi,mould and algae).
Note: coverage between 8.5m2 to 10m2, depending on way render is applied, the skill of the renderer and substrate underneath
CHARACTERISTICS

Manufactured in more than two hundred colours

Ready to use

Vapour permeable

Hydrophobic

Resistant to weather conditions

Dirt resistant

UV resistant
External walls

Internal walls
Click here to find WHY CHOOSE CERESIT INSULATED RENDERS

Ceresit EPS and Mineral Wool External Wall Insulation Systems are BBA approved systems.

Once purchased this product is non-returnable.
Please note that we can supply this product cheaper if you buy it with the whole external wall system from us. Contact us for more details.