Breather Membranes and Damp Proofing
The most common causes of persistent damp in buildings are rising damp, penetrating damp, surface condensation and condensation within the components or the surface of the components of fabric of the building.

Damp in buildings can cause a number of serious problems, such as, mould growth, mildew, salts, staining and damp patches, damage to surface finishes, decay of the building and result in poor performance of insulation.
Breather membranes
Breather membranes are water resistant but air permeable. Their air-permeability allows the structure to be ventilated, avoiding the build-up of interstitial condensation. They are used within external wall and roof constructions, where the external cladding may not be completely water-tight or moisture resistant. The membrane is fixed on to the cold side of insulation and prevents moisture from penetrating further into the structure. The membrane's air-permeability allows the structure to be ventilated, avoiding the build-up of condensation. Breather membranes can also improve the thermal efficiency of a buildings external envelope. Any moisture that might form on the outside face of the membrane should be able to drain away.

Benefits
Highly permeable to water vapour,
Wind-tight,
Water resistant,
Enhances the airtightness of the construction,
Lightweight, flexible and easy to install,
Can be fixed directly to sheathing, plywood, OSB, insulation or masonry, Durable and long life.
Damp proofing
Rising damp is caused by capillary action drawing moisture up through the porous elements of a building fabric -- walls, columns, foundation elements. Rising damp can be caused by the absence of a damp-proof course (DPC) or a damp-proof membrane (DPM) or by faults in their installation. The damp-proof course is a barrier, usually formed by a membrane built into the walls of a building -- not less than 150 mm above ground level -- to prevent damp rising through the walls.
A damp-proof course should be continuous with the damp-proof membrane in the floor, at least 150 mm above the level of the adjoining ground if it is in an external wall. And, if it is in an external cavity wall, the cavity should extend at least 225 mm below the damp-proof course, or a cavity tray should be provided with weep holes every 900 mm to prevent the water running down the cavity from passing to the inner leaf. A damp-proof course is required in the joints between walls and door and window frames and in suspended timber ground floors between the timber and materials that can carry moisture from the ground. The absence of a damp-proof course in older buildings can be rectified either by the insertion of a damp-proof course, or by the injection of water-repellent chemicals.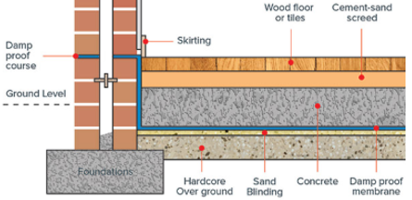 CHOOSE MANUFACTURERS or scroll down to see products