External Wall Insulation Systems

- Phenolic external wall insulation boards
- Polystyrene
- Mineral wool slabs
- Insulation fixings and beads
- Fibreglass rendering mesh
- Primers, adhesives and renders
If you have decided to add insulation to your exterior wall, you will notice that the task should not be taken lightly and, unlike insulating your interior wall or your floor for example, it involves a few components more, that is an entire system that must be applied in order of making the insulation work. Adding external wall insulation includes quite a few stages and involves an entire set of different products and materials whose installation often includes serious reconstruction work, why it is important to make sure that you get everything you need. Here at Insulation Shop we provide just that – an entire and complete set of high quality insulation products and all additional materials and components necessary for adding insulation to your solid walls.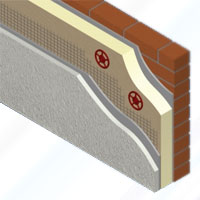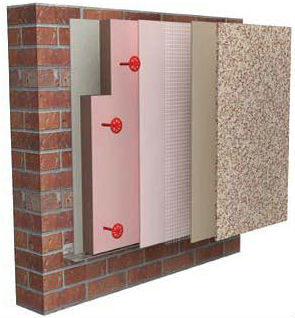 The installation process involves a few stages of adding proper materials to your solid wall, usually using the dot and dab technique, which, simply put, includes adding an insulation material to the wall surface by using specially designed adhesives, adding a primer and covering it with a mesh and then adding a render for a smooth finish. If the process seems too complicated, not to worry, since the following should convince you otherwise:
Since probably the most important component of the entire system is the insulation material bonded to the wall surface, it is crucial that you only choose highly efficient products that have all the required properties and insulation power. These include different types of PIR or phenolic insulation boards (a popular choice), polystyrene or mineral wool slabs, all able to add to your home energy efficiency. If you need additional advice in choosing the most adequate product, our advice is to opt for either:
Kingspan Kooltherm K5 External Wall Board is a one of the top selling external wall insulation walls applicable to both solid and cavity brick and block walls, comprising of a fire class 0 fore rated phenolic core covered with a glass tissue on both sides. The board is used to both new build and refurbishment projects, it is highly effective in the words of air filtration, fire resistance and water vapour control, but also very environmentally friendly, since including zero ODP and low GWP blowing agents.
Celotex SW3000 External Wall Insulation Board is another product we would recommend due to its easy installation (it presents a direct render solution) and wide application in mostly refurbishment external wall insulation projects. Although manufactured from a rigid PIR insulation core, which improves its durability and robustness, it is very lightweight and offers a much thinner solution when compared to the alternatives.
Jablite EPS 70 Polystyrene Insulation Board or Kay-Metzeler EPS 70 Polystyrene Insulation Board is another option worth considering, which has a much wider application in not only external, but also internal walls application, floors, basements and roof insulation. The boards are made of expanded polystyrene, very lightweight and easily cut to the desired size, durable, rot proof and able to meet and exceed the values prescribed by the applicable Building Regulations.
Finally, this is not all that we have to offer, since there are also Kingspan Thermawall TW 53 External Wall Insulation Board, especially designed for solid brick and blockwork walls, suitable for use behind both traditional and lightweight polymer modified renders: Kingspan Kooltherm K15 Rainscreen Board is another external insulation board consisting of a rigid core covered with low emissivity composite foil, very easy and safe to use, class 0 fire rated, but also mold, air and water resistant; Xtratherm Phenolic Insulation Board including a foam class 0 rated core covered with low emissivity foil facings offers low thermal conductivity, durability able to withstand the life span of the building and premium effectiveness in both new build and refurbishment applications.
Another option worth considering are mineral wool slabs, which will soon be available right here on Insulation Shop. It is enough said that mineral wool is one of the most commonly used insulation materials, due to its high efficiency in the words of thermal, moisture and fire resistance, easily installed onto any designated surface and completely safe to use and handle.
Since the boards need to be fixed onto the designated surfaces, what you will need next is an efficient adhesive that will be able to hold the board but will also not damage it anyhow. This can all be achieved with Ceresit ZU Insulation and Mesh Adhesive which is especially designed for polystyrene boards fixing applicable to remodeling and new build constructions, offering high adhesion, flexibility, durability and weather resistance. Another option si to use the Ceresit CT87 White Adhesive-Filler Mortar '2 in 1' for fixing expanded polystyrene boards and mineral wool slabs. On the other hand, if you have chosen an EPS board for your external wall insulation, then you could also use the Ceresit CT84 Express foam adhesive which offers a 15% greater adhesive strength when compared to traditional cement adhesives, also superb homogeneity due to the metal ball that prevents big air bubble from forming, and the ability to be added at extreme weather conditions such as low temperatures and high humidity.
If you want the render coat to adhere well to the surface you will need a good primer layer. This is why your option could be Ceresit CT 16 Primer, since it can be very easily added to the surface (ready to use), it is very versatile (available in more than 200 colours), it is unaffected by the weather conditions, easing the application of all types of renders and speeding up the drying process.

Since, as before mentioned, it is important to have every component of the system prepared and ready for installation, we strongly advise that you gather all the necessary accessories, prior to undertaking the installation itself. Well aware of this fact, we have prepared all the accessories you might need for the task including:
insulation panel fixings for rigid and semi-rigid insulation boards fixing (concrete, stone, blocks, bricks etc);

base and corner profiles (aluminum, PVC, galvanized steel);

beads and meshes.
Once all the above explained has been completed, you will need a proper render to add a smooth finish to your insulated external wall. Again, Insulation Shop has everything you need, regardless of whether you are looking for a silicone, silicate-silicone, mineral or acrylic render.
To our humble opinion, the winner in this category is the stone texture 1,5 mm grain Ceresit CT74 Silicone Render applicable to both internal and external applications, ideal for partitions where high permeability is important, highly corrosion, dirt and weather resistant, available in more than 200 hundred colours.
If you are looking for a high quality silicone-silicate render, then your choice could be Ceresit CT174 Silicone-silicate Render, 1,5 mm grain, made for outdoor and indoor applications, due to its weather conditions resistance, also hydrophobic and UV resistant, combining advantages of both silicone and silicate renders.
Ceresit CT60 Acrylic Render is another suitable option form the Ceresit family of renders, applicable to concrete and gypsum substrates, plasters, chipboards etc. It is properly protected from biological corrosion, vapour permeable and hydrophobic, again available in a wide variety of colours.
Finally, we also offer the Ceresit CT137 Mineral Render, best combined with EPS insulation boards or mineral wool boards, applicable to external and internal walls, available in white colour, properly certified and weather resistant.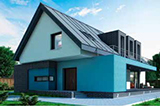 - Phenolic external wall insulation boards
- Polystyrene
- Mineral wool slabs
- Insulation fixings and beads
- Fibreglass rendering mesh
- Primers, adhesives and renders

---
Choose subcategory or scroll down to see products
Display: