External Wall Insulation Systems
Phenolic external wall insulation boards,

Polystyrene boards,

Mineral wool slabs,

Insulation fixings and beads,

Fibreglass rendering mesh,

Primers, adhesives and renders
If you have decided to add insulation to your exterior wall, you will notice that the task should not be taken lightly and, unlike insulating your interior wall or your floor for example, it involves a few components more, that is, an entire system that must be applied in order of making the insulation work correctly. Adding external wall insulation includes quite a few stages and involves an entire set of different products and materials whose installation often includes serious reconstruction work, why it is important to make sure that you get everything you need. Here at Insulation Shop we provide just that – an entire and complete set of high quality insulation products and all additional materials and components necessary for adding insulation to your solid walls.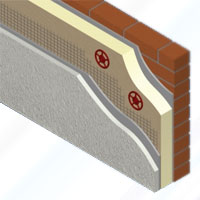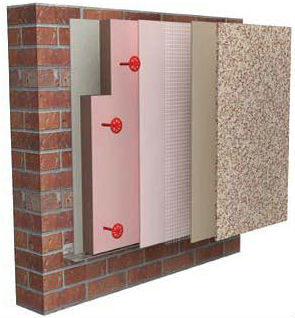 The installation process involves a few stages of adding proper materials to your solid wall, usually using the dot and dab technique, which, simply put, includes adding an insulation material to the wall surface by using specially designed adhesives, adding a primer and covering it with a mesh and then adding a render for a smooth finish. If the process seems too complicated, not to worry, since the following should convince you otherwise:
The most important component of the entire system is the insulation material bonded to the wall surface, it is crucial that you only choose highly efficient products that have all the required properties and insulation power. These include different types of PIR or phenolic insulation boards (a popular choice), polystyrene or mineral wool slabs, all able to add to your home energy efficiency. If you need additional advice in choosing the most adequate product, our advice is to opt for either:
To efficiently fix the EWI boards, you need an efficient adhesive that will be able to hold the board, while not damaging it. This can be achieved with Ceresit ZU Insulation and Mesh Adhesive which is especially designed for polystyrene boards. It offers high adhesion, flexibility, durability and weather resistance. Another option is to use the Ceresit CT87 White Adhesive-Filler Mortar '2 in 1' for fixing expanded polystyrene boards and mineral wool slabs. You could also use the Ceresit CT84 Express foam adhesive which offers a 15% greater adhesive strength when compared to traditional cement adhesives, also superb homogeneity due to the metal ball that prevents big air bubble from forming, and the ability to be added at extreme weather conditions such as low temperatures and high humidity.
If you want the render coat to adhere well to the surface you will need a good primer layer. This is why your option could be Ceresit CT 16 Primer, as it can be very easily applied to the surface, It is unaffected by the weather conditions, easing the application of all types of renders and speeding up the drying process. Available in more than 200 colours.

All necessary accessories needed for mechanical fixing of EWI systems are available at Insulation shop.
All necessary render material needed to give a decorative smooth finish to your insulated external wall is available at Insulation Shop.
---
Choose subcategory or scroll down to see products
Filter by MANUFACTURER (click here)