Rock Wool Insulation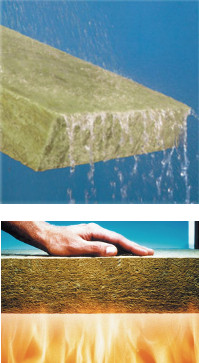 Rock wool type insulation have excellent fire resistant properties. they have a melting point about 1170 Centigrade. This fire resistant ability gives it a huge advantage over insulation products like foam, fibreglass and cellulose that would burn at much lower temperatures. Rock wool products are often used for fire blocking applications, insulating around chimneys and fireplaces and situations where the insulation needs to be left exposed.
Rock wool insulation also has excellent water and moisture resistant properties. It will not absorb water and does not rot, promote mildew, fungi, or bacteria, or sustain vermin.
Rock wool insulation is dimensionally stable. Rock wool insulation products maintain their shape really well. This is extremely important in situations where a snug fit is all that keeps the insulation in place.

Application

Masonry cavity walls,

Timber frame walls,

Roof rafter insulation,

Loft and suspended floor insulation,

Acoustic separation of flats,

Other sound deadening applications
Retains dimensional stability over time,

R-value unaffected by moisture,

Water repellent yet vapour permeable,

when thoroughly dried, will maintain the original performance characteristics,

Completely resistant to rot, mildew, mould and bacterial growth,

Does not induce corrosion,


Can withstand temperatures up to 1200C,

Does not contribute to the development and spread of fire or the release of toxic gases,

Effectively reduces airflow and sound transmissions,

Absorbs acoustic waves and can reduce the intensity and propagation of noise.

Production emissions are within UK legally defined limits,


Though mineral wool is no longer classified as a skin irritant,

Recyclable.
R-value Comparison Chart for Rock Wool Insulation products available at Insulation Shop


Legenda
1* Rockwool Firestop Cavity Slab

2* Knauf DriTherm Cavity Slab 34, Rockwool RW3 Slab (Prorox SL 930)

3* Earthwool Acoustic Insulation Roll, Earthwool RS45 Universal Slab, Earthwool RS60 Universal Slab, Earthwool RS100 Universal Slab, Rockwool RWA45 (Prorox SL920)

4* Rockwool Frontrock MAX E External Wall Insulation Slab

5* Earthwool Flexible Slab, Knauf DriTherm Cavity Slab 37, Rockwool Cavity Batt, Rockwool Flexi Insulation Slab

6* Rockwool Hardrock Multi-Fix Dual Density Board

7* Rockwool RW5 Slab (Prorox SL960)

8* Rockwool Fasrock-LL External Wall Insulation Slab

9* Earthwool Loft Roll 44, Rockwool RollBatt Loft Insulation, Rockwool Roll Loft Insulation, Rockwool Twin Roll

CHOOSE MANUFACTURERS or scroll down to see products
Showing 1 to 30 of 30 (1 Pages)