75mm Knauf DriTherm Cavity Slab 34 Super (pack of 10)
75mm Knauf DriTherm Cavity Slab 34 Super (pack of 10)
Thermal Conductivity: 0.034W/mK
Fire Rating (Reaction to Fire): A1(Non-combustible)
75mm Knauf Earthwool DriTherm Cavity Slab 34 Super are semi-rigid or rigid slabs of non-combustible, water repellent, glass mineral wool. They are 455mm wide to suit standard vertical wall tie spacings, ensuring a closed joint with adjacent slabs. This product has a special additive to make it water repellent. DriTherm Cavity Slab 34 Super has an exceptionally low thermal conductivity of 0.034 W/Mk.
Odourless, rot proof, non-hygroscopic, do not sustain vermin and will not encourage the growth of fungi, mould or bacteria.
Has zero Ozone Depletion Potential and zero Global Warming Potential.
Will not transmit water to the inner leaf.
No capillary action across the cavity or from below damp proof course level.
Easy to handle and install, being lightweight and easily cut to size, where necessary.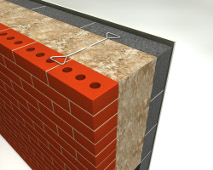 Earthwool DriTherm Cavity Slabs 34 Super are for the thermal insulation of masonry cavity external walls and are installed to fully fill the cavity. They are approved for use in buildings up to 12m high in any exposure zone and for use in multi-storey applications up to 25m in height.
They are supplied in polythene packs which are designed for short term protection only. For longer term protection on site, the product should either be stored indoors, or under cover and off the ground. Earthwool DriTherm Cavity Slabs should not be left permanently exposed to the elements.
Earthwool DriTherm Cavity Slabs are manufactured in accordance with
BS EN 13162, BS EN ISO 50001 Energy Management Systems,
OHSAS 18001 Occupational Health and Safety Management Systems,
ISO 14001 Environmental Management Systems,
ISO 9001 Quality Management Systems, as certified by Bureau Veritas.
Knauf Insulation mineral wool products made with ECOSE® Technology benefit from a formaldehyde-free binder, which is up to 70% less energy intensive than traditional binders and is made from rapidly renewable bio-based materials instead of petroleum-based chemicals. The technology has been developed for Knauf Insulation's glass and rock mineral wool products, enhancing their environmental credentials without affecting the thermal, acoustic or fire performance. Insulation products made with ECOSE Technology contain no dye or artificial colours – the colour is completely natural.