50mm Rockwool Flexi Insulation Slab - 1200mm x 600mm (pack of 12)
50mm Rockwool Flexi Insulation Slab - 1200mm x 600mm (pack of 12)
Thermal Conductivity: 0.037W/mK
Fire Rating (Reaction to Fire): A1
Fire Rating (Reaction to Fire): A1(Non-combustible)
50mm x
1200mm x 600mm
Rockwool Flexi Insulation Slab
is a unique semi-rigid thermal and acoustic insulation product made from volcanic rock. It has a flexible edge, specifically developed using patented technology for a fast and easy, perfect friction fit between timber and metal frame systems. This flexi-edge ensures perfect fit between the slab and the surrounding frame, thus making sure that no gaps caused by contraction and expansion of the structure. This stays effective throughout the life span of the structure, thus minimizing the risk of cold bridging and also successfully blocks the passage of sound, improving the acoustics of the building.
Rockwool Flexi Insulation Slabs
are made from 97% recyclable and renewable material, They are environmentally friendly and they can lower the carbon footprint of the household.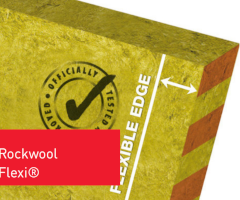 CHARACTERISTICS
Excellent thermal and acoustic performance,
Easy to handle and, install requires no maintenance
Has a flexible edge prevents gaps in the insulation,
Non-combustible,
Environmentally friendly, with no GWP and ODP potential,
Helps comply with applicable regulations,
No waste.
APPLICATION
Separating walls and floors,

Framed external walls,
Framed internal partitions,
Suspended floors,
Pitched roofs.
INSTALLATION

Rockwool Flexi expands into the void, ensuring thermal and acoustic integrity, whilst rigid insulations may leave a 6 mm gap, or even fall out, when the timber dries out.

CERTIFICATION

Achieves a reaction to fire classification of A1, as defined in EN13501-1,
1 hour fire resistant floor based on fire test to BS476: Part 21,
The safety of Rockwool stone wool is confirmed by current UK and Republic of Ireland health & safety regulations and EU directive 97/69/EC: Rockwool fibres are not classified as a possible human carcinogen.
This product is listed in the following categories and systems (click to show).
This product is listed in the following categories and systems (click to hide).