50mm Rockwool RW5 Universal Insulation Slab (Prorox SL960) - pack of 4
50mm Rockwool RW5 Universal Insulation Slab (Prorox SL960) - pack of 4
Thermal Conductivity: 0.040W/mK
Fire Rating (Reaction to Fire): A1(Non-combustible)
50mm Rockwool RW5 (Prorox SL960) is a high quality resin bonded rigid slab for a wide range of thermal, acoustic and fire insulation requirements both within buildings and for industry. They are suitable for many applications including thermal insulation for floors, walls, roofs and boiler rooms. The structure of the fibres in Rockwool Slabs makes them ideal for use as a sound absorber, with characteristically high coefficients over a wide frequency range.

APPLICATION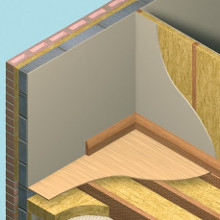 Rockwool RW5 (Prorox SL 960) can be used for insulating:
Floors, walls, roofs
Ventilation plant in all types of buildings
Acoustic ceilings and partition panels
RW5 Slabs can also be used to fire-stop small voids, in particular the gap under pitched tiled roofs in dwellings.
CHARACTERISTICS
Excellent thermal, acoustic and fire insulation
Water repellent
Resists high temperatures up to 230C
Easy to handle and install
Cost effective
No maintenance
Black or white tissue and aluminium foil facings available
Suitable for insulating curved surfaces
Rockwool fibres are not classified as a possible human carcinogen
CERTIFICATION
Rockwool Slabs conform to BS EN 13162: 2001. Thermal insulation products for buildings factory made mineral wool (MW) products specification
Satisfy the requirements of BS 5422 Method for specifying thermal insulating materials for pipes, tanks, vessels ductwork and equipment
No CFCs or HCFCs are used in the manufacture of Rockwool materials