Expanded Polystyrene Insulation EPS
EPS is widely used as the main insulating component of the External Wall Insulation (EWI) system. EPS is also used for solutions for geotechnical engineered applications such as heave protection, compressible fill materials used between concrete structures and expansive soils.

EPS is manufactured by expanding spherical beads in a mould, using heat and pressure to fuse the beads together. EPS is a closed cell, rigid foam plastic insulation that does not contain a blowing agent. The raw material is heated in special machines called pre-expanders with steam at temperatures of between 80-100C. During this process of pre-expansion the raw materials compact beads turn into cellular plastic beads with small closed cells that hold air in their interior. On cooling, the recently expanded particles form a vacuum in their interior and this is compensated for by air diffusion during its intermediate maturing in aerated silos. Then the stabilised pre-expanded beads are transported to moulds where they are again subjected to steam so that the beads bind together. In this way moulded shapes or large blocks are obtained. They are later sectioned to the required shape like boards, panels, cylinders etc.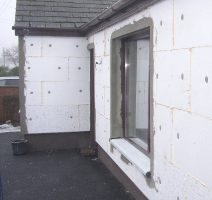 EPS insulation applied as continuous insulation over foundations, walls and roofs eliminates thermal bridging, increasing the total effective R-value and reduces energy costs and increases your energy savings. EPS is inert to a wide range of chemicals. It has no food value and will not support the growth of insects, parasites or plant life. The closed cell structure assures constant thermal performance and excellent resistance to moisture absorption.
Types of Expanded Polystyrene EPS
White Polystyrene,

Grey (Graphite) Polystyrene
White Polystyrene
White polystyrene is what you see in day to day applications. The white colour comes from the pellets used in creation of the expanded polystyrene blocks, which are later cut to sheets of different thicknesses. Some manufacturers would artificially colour their products to differentiate them from others.
Grey (Graphite) Polystyrene
The Grey polystyrene gets its colour from the graphite particles included in it in manufacturing process. The high-purity graphite particles integrated within the insulation beads reflects radiant heat and significantly improves insulation capability, providing up to 20% greater r-value than traditional white EPS of the same thickness. As radiant heat moves through graphite insulation, it reflects it hundreds of times, significantly slowing down the transfer of heat and making it more energy efficient. Warm air always moves towards cold air, but in Grey Polystyrene (Graphite) boards. that path takes many twists and turns along the way, slowing down the heat transfer, keeping the premises warmer.
Cost effective - cheapest insulation material in the market.

Easy to cut using a fine tooth saw or hot wire cutter,

The surface can be rasped on site to remove level differences,

Durable, not affected by short exposure to UV or rain.


Long term exposure can cause slight discolouration, but does not affect the thermal performance,

Has a high K-value when compared with other insulations,

Can be used in low rise and high Rise applications and in coastal locations,

Does not absorb moisture and its thermal and mechanical properties are unaffected by damp, humidity or moisture,

100% recyclable.
Should be kept away from solvents,

Should not be exposed to naked flame,

Classified as combustible (combustibility is limited due to retardants present),

Should be stored in protected packaging and away from direct sunlight.
New and existing rendered or unrendered masonry,

Timber backed walls, floors and roofs,

Cavity wall construction,

External wall insulation systems.
The boards are initially fixed to the substrate (masonry or timber) either by a mortar/adhesive or simply by mechanical fixings, or with adhesive as well as mechanical fixings.

Then the boards should be covered with an outer layer, siding or by a mortar layer.

The outer surface of the board needs to be rasped or sanded down to produce an abrasive surface, before covering it with the fibre mesh, to which the base coat or mortar layer would be applied.
CHOOSE MANUFACTURERS or scroll down to see products
Showing 1 to 12 of 12 (1 Pages)