Floor Boards, Battens and Cradles


Types of Acoustic Floor Boards
Cement bonded particle boards,
Calcium Sulphate boards - screedboards
Composite boards
Timber battens,
Timber battens with resilient layers,
Cradle systems.
New build,
Refurbishments,,
Masonry and stud walls,
Concrete and framework floors.
Cement bonded particle boards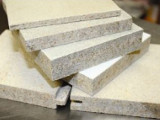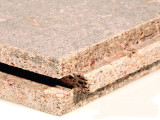 An innovative building material from wood particles and cement and has no asbestos or other hazardous volatiles, which is durable and flexible. It is not subject to weather influences and also provides a level of airborne sound reduction to comply with the applicable regulations. Additionally, it meets the requirements of moisture tolerance and fire resistance.
Can be nailed, screwed, drilled, routed, sanded, planed or sawn,
Non-toxic and asbestos-free,
Durable, flexible and cost-effective,
Highly moisture and fire resistant,
Insects, vermin and fungi resistant,
Robust and impact resistant,
Does not build up static charges.
Calcium Sulphate boards - screedboards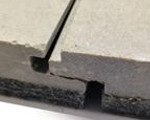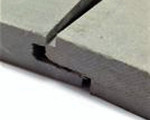 An interlocking high density floor boards for a multitude of flooring applications. Can be used in bathrooms and kitchens. It is suitable for floors with an underfloor heating system due to its low thermal resistance and rapid heat transfer characteristics. The interlocking edges don't contract or expand when exposed to water. Due to its high density, it has higher acoustic values. Some boards come with an additional resilient layer for extra acoustic values.
Quick and easy to install,
High density - provides high acoustic performance,
High impact resistance,
Ideal for underfloor heating systems,
Accepts ceramic tiles,
Interconnecting edge detail - no screws required,
Hard wearing surface - looks and feels like a screed
Composite boards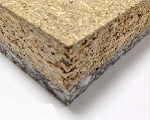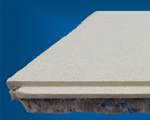 Composite boards consists of a resilient layer bonded to a rigid board. The resilient layers could be manufactured from petroleum-based foams, from renewable vegetable based components (Ecopoli). The rigid boards can be MDF, Chipboard, Cement particle board, Calcium Sulphate boards, Gypsum boards and other plasterboards.
Easy as a quick to install,
Installed directly onto walls, floors and ceilings,
Could be used as a remedial solution for sound test failures,
Fire retardant,
Surface is ready for any decorative finish,
Recyclable.
Accessories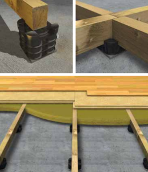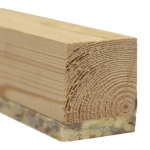 Timber acoustic battens with and without a resilient layers and rubber and polypropylene cradle systems ideal for levelling uneven floors.
CHOOSE MANUFACTURERS or scroll down to see products