Cavity Closers
Benefits
Prevent water penetration The use of a cavity closer will prevent the ingress of water around a window or door.
Prevent heat loss and cold penetration Thermal loss can result in problems of condensation, staining and mould growth at the reveals of these openings. Prolonged exposure to this will lead to a deterioration of the internal plaster and paint work.
Create a fire barrier A fire rated cavity closer can prevent the spread of fire.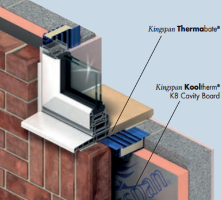 Installation
Fitting a cavity closer during brick work
Make an accurate (timber) template the same size as the structural opening.
Cut cavity closer to the size of the sill and jamb.
Tack or nail the cavity closer to the window or the timber former along the sill and jamb.
Remove the relevant flanges on the run on so you are left only with the cavity width portion.
Position the window frame with 30mm overlap of cavity closer from the inside of the outer skin.
Position the window with the cavity closer attached onto the sill in the required position.
Ensure the timber window is level and upright then prop up in position.
Build up the two wall skins ensuring that they butt up tight to the closer.
Build inner skin up to the inside flange of the cavity closer and butt to the outer skin.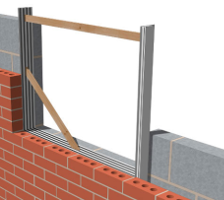 Fitting a cavity closers posts brick work
Cut cavity closer to cavity size.
Push fit the cavity closer into the opening ensuring that the exposed insulation points towards the internal skin.
Push fit the sill section in place, ensuring that the cavity closer butts up to the jambs.
Use galvanised or stainless steel nails to fix the flange into masonry.

CHOOSE MANUFACTURERS or scroll down to see products
Showing 1 to 8 of 8 (1 Pages)