Internal Wall Insulation
One of the main disadvantages of internal insulation is the loss of room space; this may be minimised by using high performance insulation products that are thinner. While this is often a more affordable option than installing external wall insulation, the loss of space and potential necessity to take out and re-fit fitted kitchens and appliances can result in people choosing the external insulation option.
Insulation Shop offers a wide range of high performance PIR rigid insulation from manufacturers Celotex, Xtratherm. That includes PIR boards bonded to plasterboard (Celotex PL4000) which gives user the ability to install both the insulation and plasterboard in one operation thus significantly reducing installation time.
R-value Comparison Chart for Internal Wall Insulation products available at Insulation Shop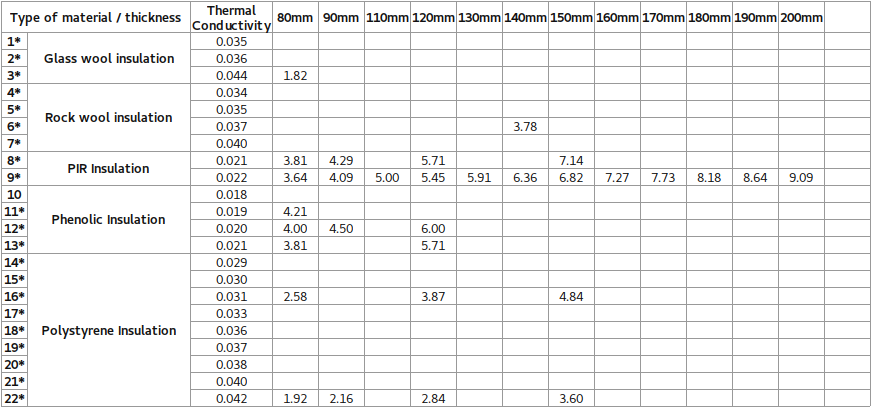 Legend
1* URSA Acoustic Insulation Roll

2* Isover Acoustic Partition Roll, Isover RD Party Wall Roll, Isover Acoustic Multi-Purpose Slab, Isover Acoustic High Performance Slab

3* Superglass Multi Acoustic Insulation Roll, Superglass Acoustic Insulation Roll

4* Rockwool RW3 Slab (Prorox SL 930)

5* Earthwool Acoustic Insulation Roll, Earthwool RS45 Universal Slab, Earthwool RS60 Universal Slab, Earthwool RS100 Universal Slab, Rockwool RWA45 (Prorox SL920)

6* Earthwool Flexible Insulation Slab, Rockwool Flexi Insulation Slab

7* Rockwool RW5 Slab (Prorox SL960)

8* Celotex FR5000 Fire Resistant Insulation Board

9* Celotex TB4000 Insulation Board, Celotex GA4000 Insulation Board, Celotex XR4000 Insulation Board, Kingspan Thermawall TW55 Wall Insulation Board, Recticel Eurothane GP Insulation Board, EcoTherm EcoVersal Insulation Board, Celotex PL4000 Insulated Plasterboard, Xtratherm Thin-R Thermal Liner - Mech Fix, Xtratherm Safe-R Thermal Liner SR/TB - Dot & Dab, Gyproc Thermaline Insulated Plasterboard, Gyproc Thermaline MR Insulated Plasterboard, EcoTherm EcoLiner Insulated Plasterboard
10* Kingspan Kooltherm K118 Insulated Plasterboard
11* Kingspan Kooltherm K17 Plasterboard, Kingspan Kooltherm K18 Plasterboard

12* Gyproc Thermaline Super Insulated Plasterboard, Kingspan Kooltherm K12 Framing Board, Xtratherm Safe-R Thermal Liner SR/TB Mex-Fix, Xtratherm Safe-R Thermal Liner SR/TB - Dot & Dab
13* Xtratherm Safe-R insulation Board

15* Knauf Polyfoam Linerboard XPS

16* Grey Polystyrene (Graphite) EPS

17* Gyproc Thermaline Plus Insulated Plasterboard

18* Jablite EPS100 Polystyrene Insulation Board

19* Kay-Metzeler EPS70 Polystyrene Insulation Board

20* Jablite EPS70 Polystyrene Insulation Board, Knauf EPS Thermal Laminate Insulation Board

21* Gyproc Thermaline Basic insulated plasterboard

CHOOSE MANUFACTURERS or scroll down to see products