40mm Celotex CW4000 Rigid PIR Cavity Insulation Board (pack of 14)
40mm Celotex CW4000 Rigid PIR Cavity Insulation Board (pack of 14)
Thermal Conductivity: 0.023W/mK
Compressive Strength: 120kPa
Water vapour resistivity: 150MN.s/g.m
Surface Spread of Flame: Class 1
40mm Celotex CW4000 is an insulation board aimed specifically at partial fill cavity wall applications. It comprises a polyisocyanurate rigid foam insulation core, with a thermal conductivity of 0.022 W/mK and low emissivity aluminium foil facings on both sides. CW4000 is manufactured from rigid polyisocyanurate (PIR) using a blend of blowing agents that have zero ozone depletion potential (zero ODP) and low global warming potential (GWP).
Note: Would be known as CW3000 from January 2018.


Celotex CW4000 is specifically for use in partial-fill cavity wall applications.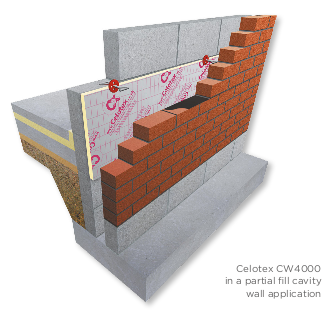 Is easy to fit between wall ties using cavity tie clips for retention
Comes in thicknesses ranging from 25mm-100mm
Comes in conveniently sized boards for installation between cavity wall ties
Includes low emissivity foil facings giving improved thermal insulation performance within cavity air spaces
Has excellent dimensional stability
Provides reliable long term energy savings for buildings
The insulation component of Celotex CW4000 is A+ rated when compared to the BRE Green Guide 2008
Celotex CW4000 is CFC/HCFC free with zero ozone depletion potential (ODP) and low global warming potential (GWP)
Celotex CW4000 received CE marking compliance to BS EN 13165:2001
The board is manufactured in accordance with quality management systems with BS EN ISO 9001:2000 by Celotex Limited